Tiffany's Fashion Week Paris 2017 (Season 8)
Location : Shangri-la Eiffel Tower Palace
Date : October 1st, 2017.
We have some big surprises for our International guests this Tiffany's Fashion Week 2017 season 8. We are teaming up this season with the Parisian based travel agency Ats Voyages.
To give away 5 special gifts to 5 star restaurants and hotels in Paris, beauty gifts by top brands, and the big surprise will be a 5 star free flight to your preferred destination anywhere around the world. We are excited to offer you this great news and there will be a ticket draw of 20 euros at the event for those interested in entering the draw to win one of these divine gifts.
All participants must be present at the event in order to be eligible to win one of these divine gifts. This is an event not to be missed with 9 International Designers from around the world Brazil, Chili, Dubai, England, France, India, Slovakia, and the USA.
Tiffany's Fashion Week 2017 will open with the famous celebrity French Rivera Fashion Designer Denis Durand from Cannes, France. Luxe.TV global channel will broadcast the event live to over 25 million viewers across the world after the show. Come and join us for a day of Fashion Wonderland in la belle Paris!
There will be an Art and a Fashion Exhibition so you can buy your favorite Designer brand during the event. A portion of all proceeds will go our International Cancer Research Foundation to help save lives around the world.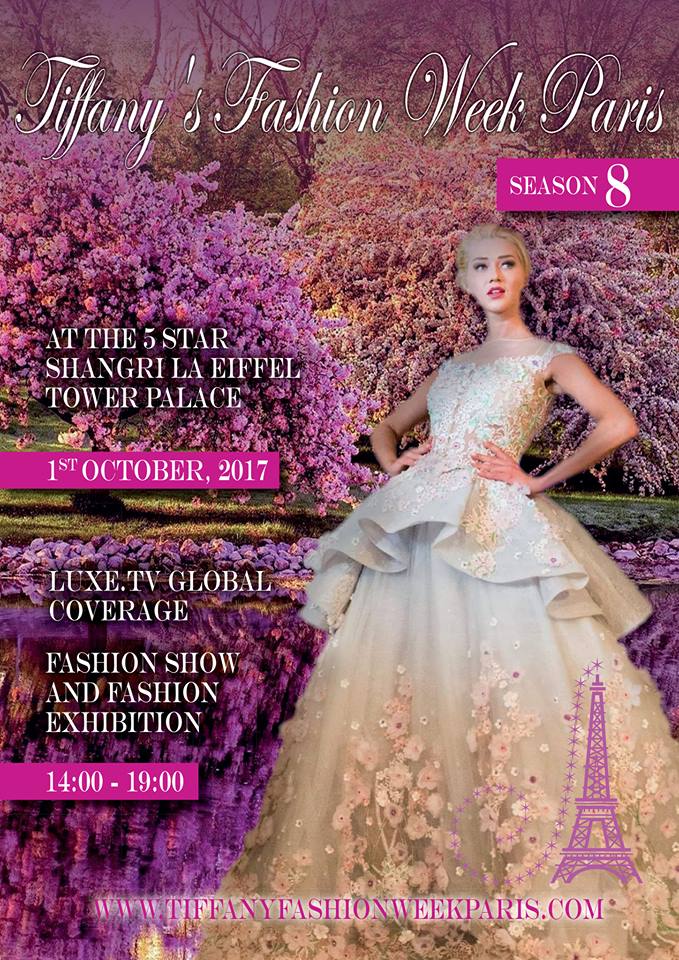 Planet Fashion TV – Tiffany's Fashion Week – Season 7 – The Fashion show of  Mona Al Mansoury
Here is the link for the virtual tour of the 5 star Shangri-La Eiffel Tower hotel Paris. For you to view, where season 8 of Tiffany's Fashion Week Paris 2017 will be held during Paris Fashion Week.
Contact at :
tiffanysfashionweekparis@yahoo.com