LeKORI design by Francine Faleu's (Paris, France)
The Fashion Designer
Francine Faleu's path, punctuated by travel, is the source of inspiration and confers a singular character to her world. Through her encounters, she discovers colours, patterns and traditional materials that inspire her range of modern clothing. Tea, flowers, tree bark… as painters from centuries gone by drew their colours from nature, local craftsmen master the techniques and the materials for a result of unequalled quality. It is from these discoveries that a range of urban chic garments with pure, elegant lines are born, emphasised by the beauty, originality and rarity of the materials.
Francine Faleu started by creating unique costumes for the musicians of her percussion band Drumbata. From pop-up stores at trade fairs to fashion events, the enthusiasm of the public for her designs have motivated her to continue this particular voyage… LeKori sees the light of day.
The Brand

LeKORI proposes a top-of-the-range sleek, modern, street wear line . The ethnic patterns and colours add a touch of originality associated with classic designs: pencil skirts, bubble skirts, tailored jackets, elegantly sexy dresses… you will find a sober choice of colours in both summer and winter collections. The hand crafted style of confection of the material confers an exceptional rarity and the colours and patterns, a fresh character. Concern for top-of-the-range quality, LeKORI pays painstaking attention to the finishings. LeKori promotes mini-series and "capsule collections" of unique pieces. The brand reinvents itself through the seasons and through inspiration with new patterns, colours and designs.
Boutique LeKORI 9, rue des Gardes 75018 Paris, France
Opening Hours : from Tuesday to Saturday  – from 2pm to 6pm
LeKORI – info@lekori.com
LeKori Fashion Show 2016
Fashion – design. « Luxe à la Goutte d'Or » from Rue des Gardes Paris 18 district.
The name of an exploratory course devoted to fashion and design, through one of the most popular districts of Paris, nestled in the hollow of the Boulevard Barbès (XVIIIth). With beautiful surprises in the key, to discover from today. As few Parisians know,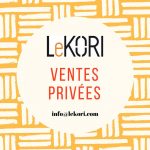 the neighborhood is full of designer boutiques, tailor-made workshops offering tailor-made products, jewelery stalls as well as tableware or cultural products and design. Eighteen designers, installed rue des Gardes (the Fashion street) and around, lent themselves to the game, and will receive the public in their workshop shops.
Designer' Paradise And trendy boutiques
Paris is definitely the trendy fashion city. While strolling there, one discovers trendy shops but also creators with clothes and accessories all more original and stylized one than the others.