The Princess Kingdom in Paris – 2018 – Shanae White
The Princess Kingdom is a beautiful sisterhood for little girls who wants to bond with other little girls around the world.
The owner of the Kingdom Shanae White has done a fabulous job with these little up and coming models. I follow Mrs White on Facebook and Instagram and omg the places and the things she do with these little girls are awesome and the clothes and sneakers that she designs are Fabulously Gorgeous. Keep up the good work Mrs White because a lot of little girls look up to you and I admire you also.
The Princess Kingdom is a non-profit organization
The Princess Kingdom is dedicated for young girls who aspire to be great! Founded by Mentor and Designer Shanae White, in 2013. The Princess Kingdom is a place where we laugh bunches, love abundantly, learn and grow together, but most importantly support each other wholeheartedly in each endeavor we embark upon. Here at The Princess Kingdom we are about making a difference in our communities by participating in actives that give back to those less fortunate. These activities typically involve food/toy drives, charity events, and fundraisers to name a few. Our mission is to encourage others through supporting those in need and providing a positive influence full of love and blessings to all.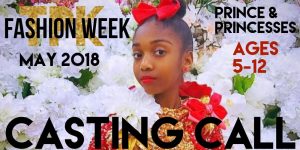 The Purpeous
« Let the little children come to me, and do not hinder them, for the kingdom of heaven belongs to such as these. » Matthew 19:14
Our purpose is to build a Kingdom that allows children of all races, size, religion, and cultural backgrounds to come together as sisters and form an unbreakable bond. Their love, passion for fashion, and all things beautiful is the glue that keeps them together and builds experiences that last a lifetime.
The Goal of Princess Kingdom
The goal is to be a blessing in your child's life through mentorship, leading by example, encouragement, and love.  Through team building activities, fashion shows, and photo-shoots we strive to highlight every aspect of your child's life to show them that they truly are princesses. While being a part of our program your daughters will be consistently reminded that they all are destined for greatness!
The Princess Kingdom – Shanae White

The Princess Kingdom is constantly searching for opportunities for our Princesses. Some of these opportunities include, casting calls, auditions, community events, play dates, and hosting/attending charity events. Our company's priority is to ensure the protection of your Princess's image and to avoid anything that can discredit or show them in a negative light. At The Princess Kingdom we always maintain our sparkle!
Contact for booking : Professional Model: Print, Runway, Commercials
FaceBook : The Princess Kingdom
Web Site : theprincesskingdom.com
Phone : +2404319613
Princesses In Paris Fashion Week
Do you have a Princess or Prince between ages 5-12??? 
I'm currently Casting Princesses to participate in all EXCLUSIVE PRIVATE EVENT :
>>>> TPK Fashion Week <<<
#TPK #PFW

           Do you have what it takes to be a TPK Princess?
Elegance, Grace, Poise
***Don't miss this great opportunity***
           Inspiring Models, Dancers, Actors, Encourage to Apply
This is a Private Event :
NO EXPERIENCE NEEDED,
Will Train!!!! Must be willing to travel.
Selected Princesses and Prince Will Receive :
*Customized Garment
*Private High Fashion Photoshoot Session
*Princess Swag Bag
*Princesses will appear in Princess Lifestyle Magazine Spring 2018 Edition
*8 week Runway/Dance Training Course
*One on One Mentor Session
*MUA
*Stylist
*Nail Technician
*Princesses will receive footage of their performance
*Red Carpet Pre-show Interview
*Recorded Radio Show Interview
Serious Inquiries Only!!!
For Online Submission, please include the following: CONTACT US
Recent Picture, Name, Age, Location
CASTING CALL: TPK Fashion Week 2018
Tiffany's Paris Fashion Week
Producer : Tiffany McCall
Location : The exclusive Grand Ballroom Marriott 70, Avenue des Champs Elysées 75008, Paris, France