FALL – WINTER 2022 – 2023 – CALENDAR 
From 4th July to 7th July 2022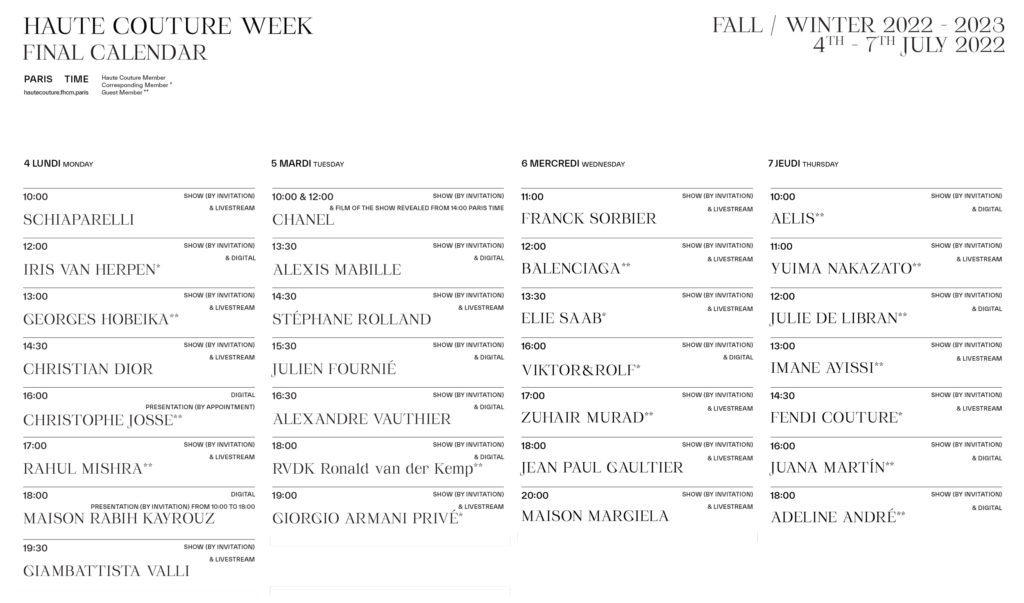 LA FÉDÉRATION
The Federation numbers some one hundred members, amongst whom feature the most emblematic brands on the global stage. It comprises three Chambres Syndicales or central bodies (Haute Couture, Women's and Men's Fashion).
The Fédération de la Haute Couture et de la Mode brings together fashion brands that foster creation and international development.
It seeks to promote French fashion culture, where Haute Couture and creation have a major impact by combining traditional know how and contemporary technology at all times.
It contributes to bolstering Paris in its role as worldwide fashion capital in particular coordinating Paris Fashion Week®.
Website :
https://hautecouture.fhcm.paris/en/#
CONTACTS :
HAUTE COUTURE WEEK
100/102 rue du faubourg Saint-Honoré, Paris 8e
T 01 42 66 64 44 / federation@fhcm.paris
Press Contact / presse@fhcm.paris
Request Press Accreditation / accreditation@fhcm.paris
Location