PARTNER SHIP BETWEEN SOMEX GROUP AND DANIEL HECHTER
Daniel Hechter is the first fashion brand to draw a collection of Wax and Bazin fabrics.
The name of the collection is  »We Wax The World ».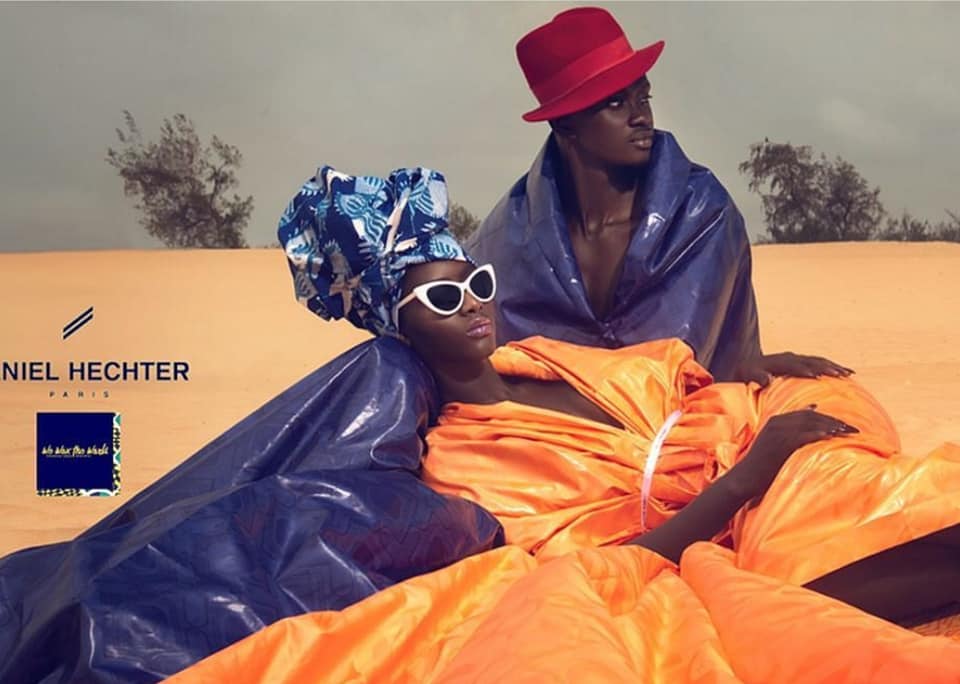 The collection of fabrics is making by the partner ship between SOMEX GROUP and Daniel Hechter.
The line is the result of more than 2 years of collaboration and an exclusive partnership between the Somex Group, specializing pan-African distribution company, its historical and main activity is the creation, manufacture and distribution of African printed fabrics  and representation in African markets for more than 50 years, and the Daniel Hechter, launched in 1962 fashion first on the catwalk, and then in the shops of Paris.
WE WAX THE WORLD COLLECTION
WE WAX THE WORLD  Collection was launched in Paris the September 20th 2018 , during a Fashion Show organized by Adama Fashion Events.
The Senegalese designer and producer, Adama Ndiaye, Ceo and founder of Dakar Fashion Week and Black Fashion Week .
Adama Ndiaye has also her own brand by the name Adama Paris.
The media used to call her name by Adama Paris.
This lady is a multicultural style and design. Adama Paris  is her eponymous brand because she wanted an original name. Adama Paris comes from Senegal, she was born in Kinshasa (Congo).
We wax the World represent the official launch of the Fabrics and Distribution of Bazin, Wax and Silk Made by Daniel HECHTER.
THE AIM of this Project
The aim of the We Wax the World line is to develop in an ambitious and creative way.
We Wax the World respect  the values of ethical and traditional culture of Africa.
We Wax the World represent a responsible fashion label in promoting crossbreeding and diversity through a high quality product.
WE WAX THE WORLD TOUR – First Exibition (Tour 1) – SEPTEMBER 20TH 2018 IN PARIS
Eight African designers presented creations made with We Wax The World fabrics designed by the Daniel Hechter Studio's :
Adama Paris, Sadio Bee, Parfait Ikouba, Alia Rayana Bare, Lahad Gueye, Sisters of Africa, Ka Jean Ka and a Designer from Angola.
The Shooting for the campaign of Advertisement is a collaboration with Mario EPANYA, photographer for DANIEL HECHTER STUDIOS.
We Wax the World is a collaboration with Adama PARIS – Adama Paris Fashion Events power by SOMEX.
WE WAX THE WORLD TOUR – Second Exibition (Tour 2) – OCTOBER 20TH 2018 IN BAMAKO (Mali)
Its launch will take place in Bamako on October 20, 2018. The event will also be followed by a rollout of the brand in other African capitals in 2019 such as Dakar, Abidjan and Lagos.
SOMEX GROUP
Created in 1965, the Somex Group is a pan-African distribution company, its historical and main activity is the creation, manufacture and distribution of African printed fabrics, with more than 300 million yards sold in the last 15 years in Africa.
SOMEX GROUP operates in more than 27 countries. The Group has also diversified into distribution and e-commerce in Africa (toys, baby care, furniture and various consumer goods). With We Wax The World, the group enters the high-end segment of Wax and Bazin Riche fabrics.
WE WAX THE WORLD FIRST EDITION
We Wax The World Collection 2018-2019 represents 44 Wax designs in 13 colors – 15 Bazin Riche designs in 15 colors,  and 13 Silky Prints in 10 colors
 We Wax The World Collection has been designed for demanding customers in quality, in Europe, in Africa and worldwide demanding.
The fabrics want a high-end offer in Wax and Bazin Riche textiles and Silky Prints.
The entire collection is available on Daniel Hechter's website and through SOMEX GROUP by their sales representation in Africa .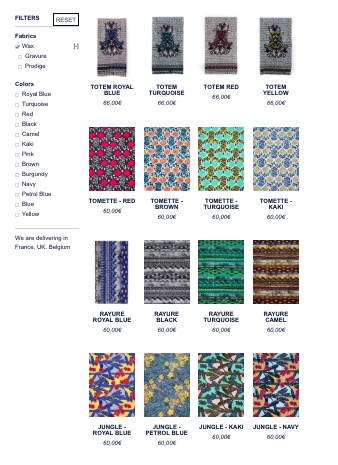 SOMEX GROUP
For SOMEX GROUP  » Africa will keep its promises of development and will show the world its ability to grow  »
SOMEX GROUP is a representation of more than 50 years of presence and development in Africa.
SOMEX GROUP has a solid Network of partners, suppliers and customers in 60 countries on 4 continents.
SOMEX GROUP activities are various. The development of signs in the distribution (toys, decoration), Direct sales in more than 27 African countries, Leading positions in the marketing of African ethnic fabrics, Professionals of import / export, from purchase to sale, SOMEX GROUP represent a very liable partner for their customes.
Somex, the company has invested for 50 years all its energy, creativity and know-how in a harmonious development of trade with Africa.
But beyond trade, numbers and flows of goods, the greatest success of Somex is the creation of a real Brand, a Name, recognized and appreciated in many countries. It is in the name of the respect and the confidence that we grant to them that our partners and customers will make grow the success of our company.
SOMEX IN AFRICA
Commercial agents who know Africa at your fingertips.
Across the continent, specialized sales teams provide listening and support to our clients. Collect and analyze field data to provide the most appropriate services and products.
SOMEX SUPPLIERS
An extensive network of suppliers selected over the years with rigor and professionalism.
Large companies on several continents trust Somex to distribute their products in Africa.
SOMEX CUSTOMERS
SOMEX clientele includes importers, wholesaler distributors as well as retailers. Somex covers all of Africa and serves customers in more than 30 countries across the continent.
WE WAX THE WORLD Bamako, Mali The beautiful, subtle texture and amazingly high shine ofDANIEL HECHTER Privilège pattern.