GUO PEI AUTUMN-WINTER 2020-21 Couture Collection : COUTURE SHOW – SAVANNAH
Date : 11.30am (Paris time) on Wednesday 8 July 2020.
Location : Paris (France)
A journey through my couture collection : from my inspiration to the Runway by GUO PEI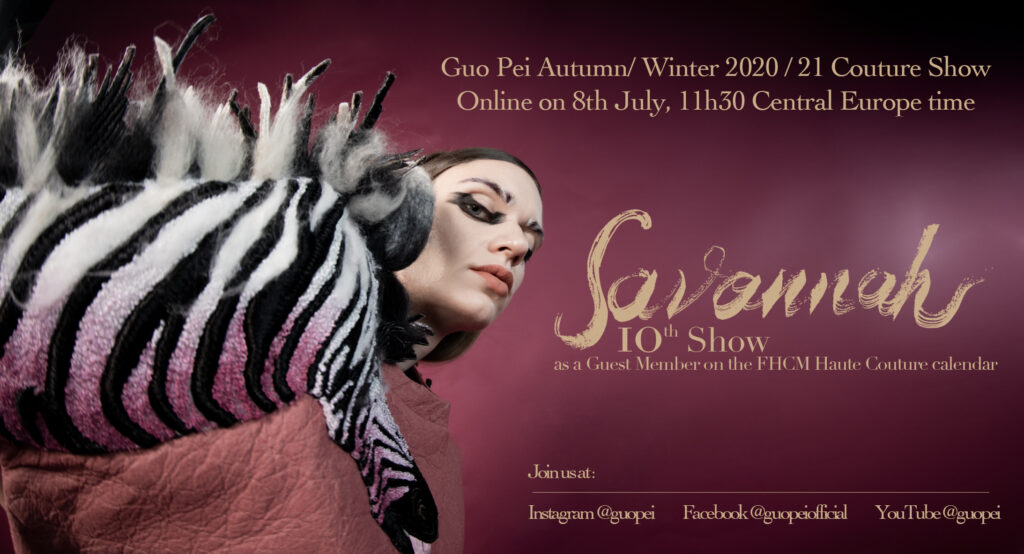 10th EDITION
For this 10th show, GUO PEI is exploring the theme of Life.
GUO PEI envision images of vast Savannah grasslands where plants flourish & animals thrive with the arrival of the rainy season.
Cheetahs are hunting, giraffes are grazing while a herd of zebras strolls by .
Here, the laws of nature prevail, untainted.
During this time when the world faces the challenges of a global health crisis,
GUO PEI find herself delving deeper into her perception & feelings towards Life.
Through her collections, GUO PEI wish to express my feelings of the connection between life & landscape &  the relationship between man and nature.
A warm welcome, one & all, to GUO PEI online show on July 8th. Join us in experiencing the rhythm of Life on the Savannah.
GUO PEI AUTUMN/WINTER 2020/21 COUTURE COLLECTION
Read More…