Delphine Diallo present her Art Work at the Art Paris Fair AKKA – Also Known As Africa 2023
Date: October 20-22 2023
Venue: Akka, Carreau du Temple (4th arrondissement), Paris (France)

Fisheye Gallery is participating in AKAA – the only contemporary art fair in France dedicated to the artistic creation of Africa and its diasporas – alongside Delphine Diallo
Delphine Diallo Art Work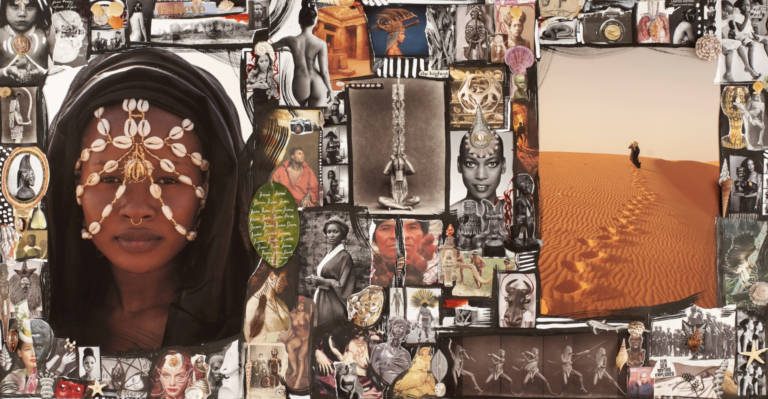 Delphine Diallo, born into a French-Senegalese creative family, initially explored her artistic talents in music, graphic design, and artistic direction.
However, a transformative encounter with North-American photographer Peter Beard (1938-2020) redirected her path, allowing her to fully embrace photography and learn invaluable practical lessons.
As an observer of the traditional gaze of photography on women's bodies, Diallo made it her mission to actively dismantle the sexist and racist legacy within the field.
Since 2014, she has been developing a visual language that empowers both herself and the women who become the protagonists and heroines of her work.
Diallo began by capturing the essence of her friends and family, transforming them into goddesses as a way to honor what she refers to as the « divine female body. »
Through the use of body paint, jewelry, and various attires, she brings her vision and mission for these women to life. Recognizing the responsibility that comes with representing others, Diallo places a strong emphasis on ethics in her practice, fostering long-term relationships and collaborations with her subjects.
Over the years, Diallo has developed a photographic style that incorporates spiritual symbols, evoking mythology and granting black women their rightful place in the pantheon. Her work aims to elevate her subjects by creating new legends and narratives.
In this way, Diallo challenges and redefines the historical genre of portraiture, pushing boundaries and breaking free from traditional conventions.
Delphine Diallo's new series, Golden Age
Delphine Diallo's new series, Golden Age, delves into her committed themes with the guiding principle of « the transmutation of the female body. » As a feminist, historical, spiritual, and therapeutic photographer, Diallo fully embraces the hybridization of her work.
This journey begins with a meeting with Amya, a prominent collector of African art objects from the United States. Moved by Delphine Diallo's work published in the New York Times (May 2020), he contacts her and proposes collaborating on the objects from his private collection. « I arrived at this exceptional place where over three thousand objects were arranged, » recalls Delphine Diallo. « I was overwhelmed by the choices I had to make, as if I had access to a museum. » Together, they select around twenty objects, with the photographer leaving aside those that did not possess the « energy » she was seeking.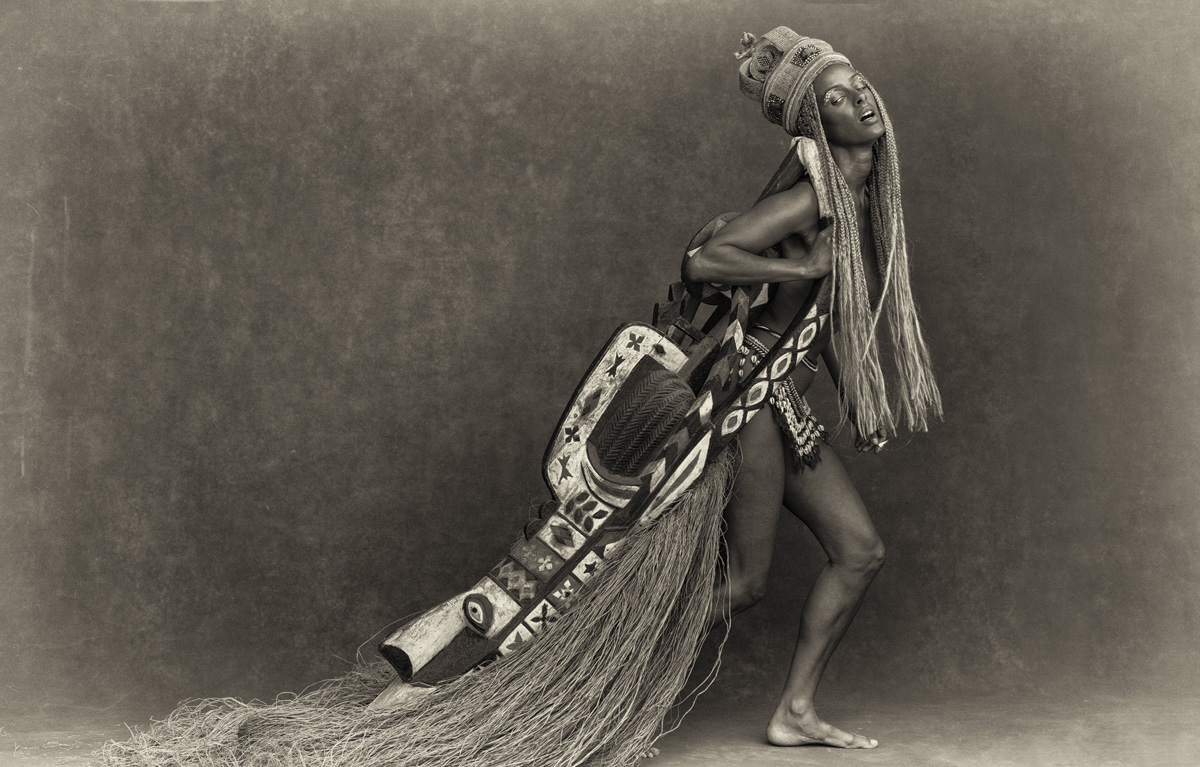 Spiritual connection
Through a spiritual connection with the collector, Delphine Diallo engages in a dialogue about the history of the chosen pieces. This becomes a way to give voice to the past and present they hold, both in their physical and spiritual dimensions. Once she establishes trust with these thirteen African artifacts, the photographer discovers them in her own unique way and delves into their mysteries. Through her gaze, the objects reveal themselves and come to life.
The inspiration for the Golden Age series came from this passionate collector of African art who wanted to collaborate using his own collection. With over 3,000 artifacts to choose from, the photographer decided to focus on ritual masks, traditionally worn by men. Through powerful self-portraits, she reappropriated these masks, allowing her to express her own story as a woman.
The transmutation of the divine
Accompanied by three black women representing three physical beauties of the African continent – Soleïta from Congo, Oyte from Eritrea, and Johanna from Nigeria – Delphine Diallo initiates what she calls « the transmutation of the divine. » « Each one represents a queen from their respective countries, and I asked them to choose the object they wanted to wear based on the connection they established with them. » The space thus opened up welcomes a spiritual connection, as the women embody the resurrected objects. The sensitive energy emanating from these portraits becomes an essential element of language and communication for the photographer, as each talisman carries its own symbol and meaning. « These objects were created centuries ago for spiritual purposes, for protective rituals, and rites of passage from adolescence to adulthood. They had a specific role. Once removed from their original continent, they lost that role. » For Delphine and her friends and models, this transmutation of strength and power becomes essential. It is a way to infuse life and immortality into these divine objects through the embodiment of African women – who themselves are divine. « Through my work, I breathe new life into these objects and give them a place in the modern and contemporary history of art, » reflects the photographer.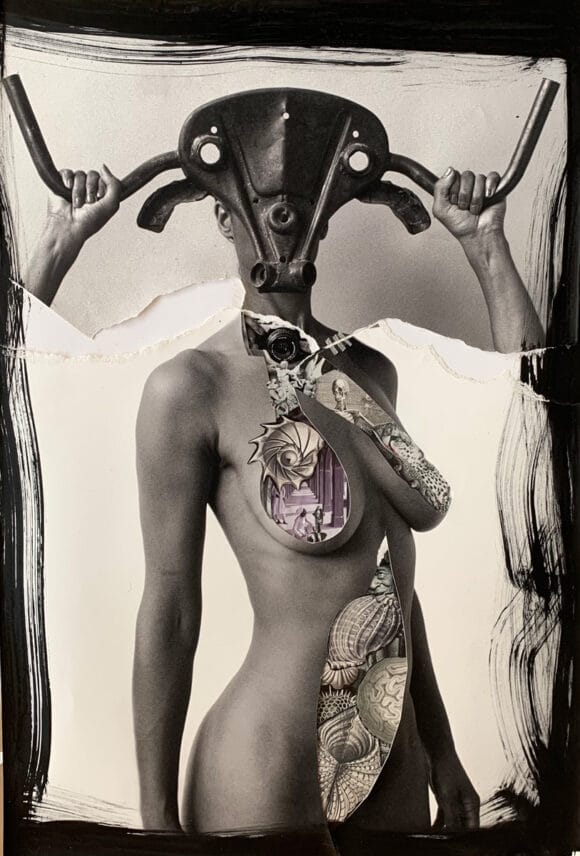 Delphine Diallo's work
Delphine Diallo's work brings about a heightened awareness of the role of the black woman's body throughout colonial history. She emphasizes that black women are not objects, but rather subjects with agency and power. By engaging in conversations with her friends and models, Diallo explores the historical and spiritual context of animistic rituals tied to nature and education. She aims to challenge societal perceptions of the female body in our modern world and encourages a shift towards recognizing the responsibilities of parents and education in promoting cultural understanding and ending the objectification of women. Collage plays a significant role in her artistic approach, allowing her to express her vision and create a dialogue that connects with viewers on a psychological level. Diallo sees collage as a form of therapy, a way to heal and empower the body through visual impact. Through her work, she aims to reintegrate and reinterpret her vision, while fostering a deeper connection with the divine and the self.
Awaken the Mind, Embrace Awareness »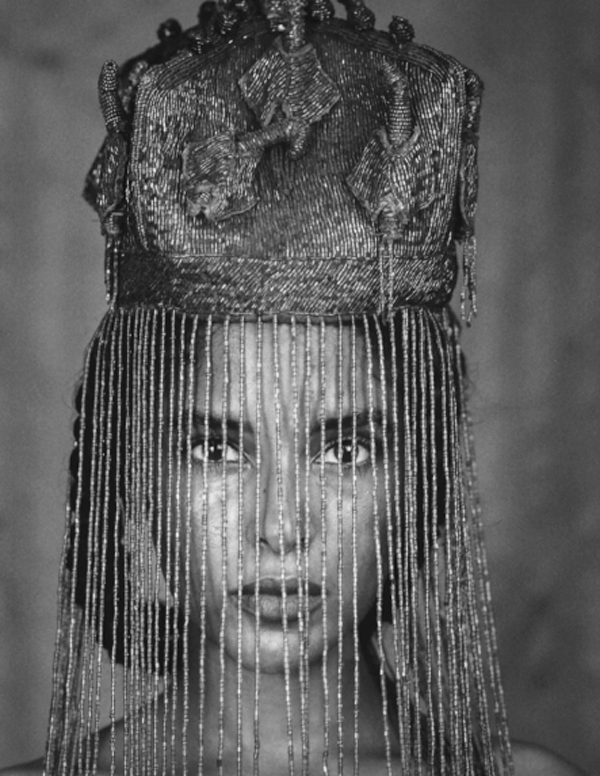 The Yoruba king's crown (photo above), made of gold beads, spoke to me straight away, and I made it my own, like so many objects worn by men. It must have been the first piece I connected with: it was an obvious choice for me. It exuded a deep, spiritual essence and (gave an image of) a powerful woman. I can't believe that these crowns were only worn by women at the time. It was exceptional to discover all that.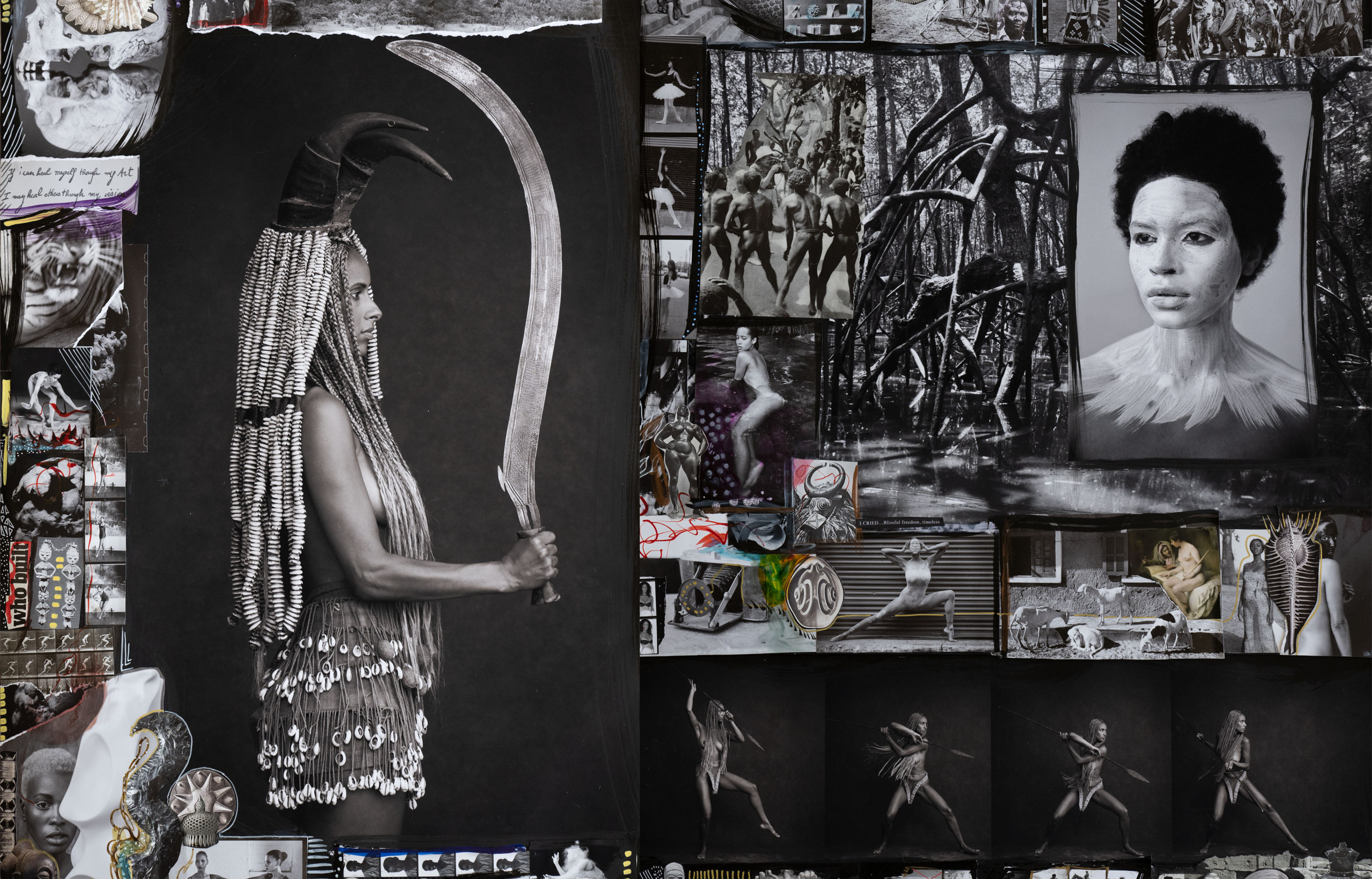 Delphine Diallo:  I have utilized color photography, black and white, sepia, and collage, encompassing various stages of transformation.
Collages, in particular, represent a discovery of the world as the images belong to a preexisting universe. For instance, the collage titled « The spiritual warrior » combines my landscape and portrait photographs taken over a span of twelve years. In another self-portrait, « The creation of Life, » I incorporated images from magazines dating back to the 1960s and 1970s. With Golden Age, my reflection delves into the past, intertwining it with my own personal history. I often draw inspiration from biology magazines, history books, and African ritual literature. My work can be described as anthropological in nature.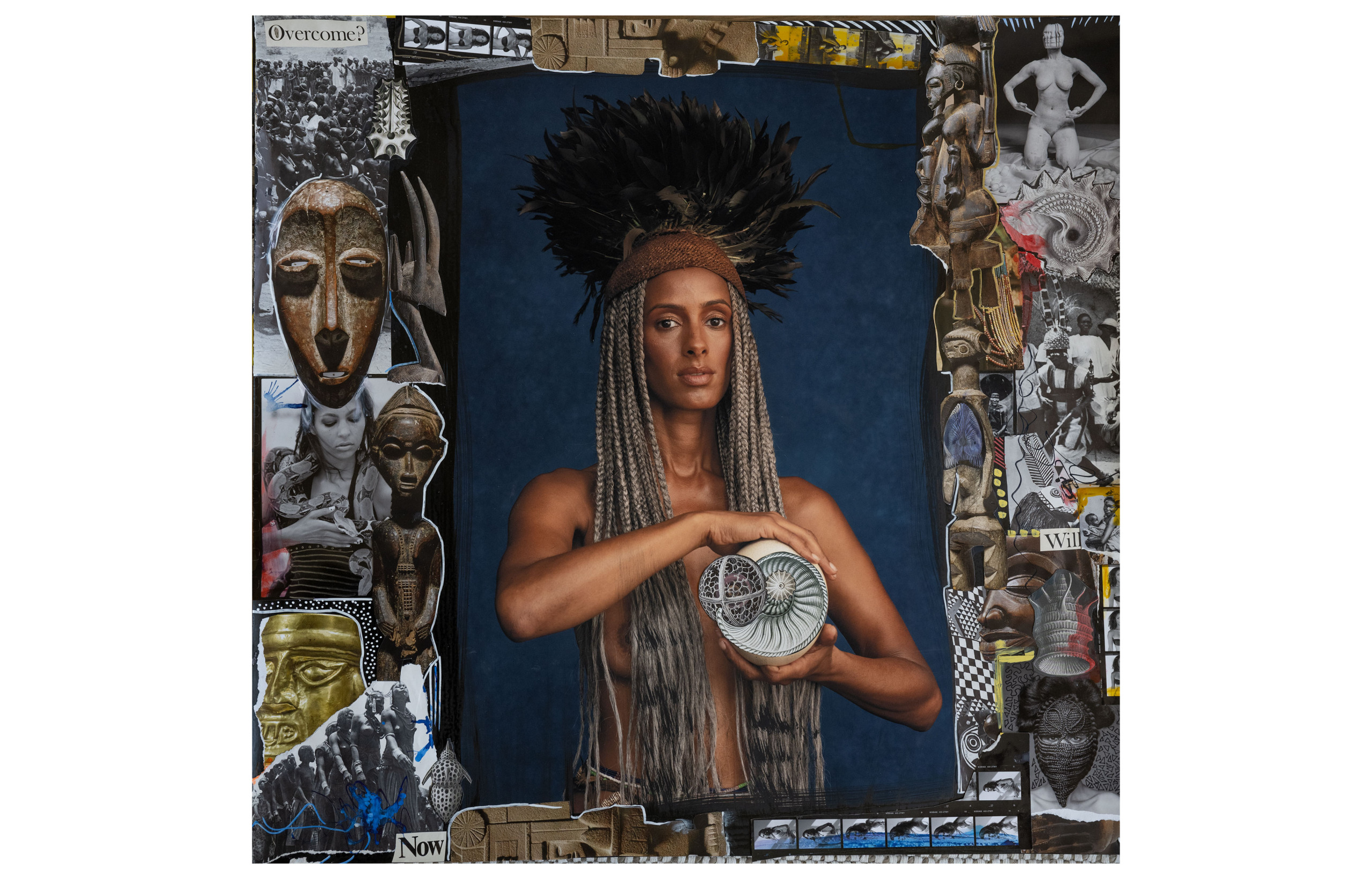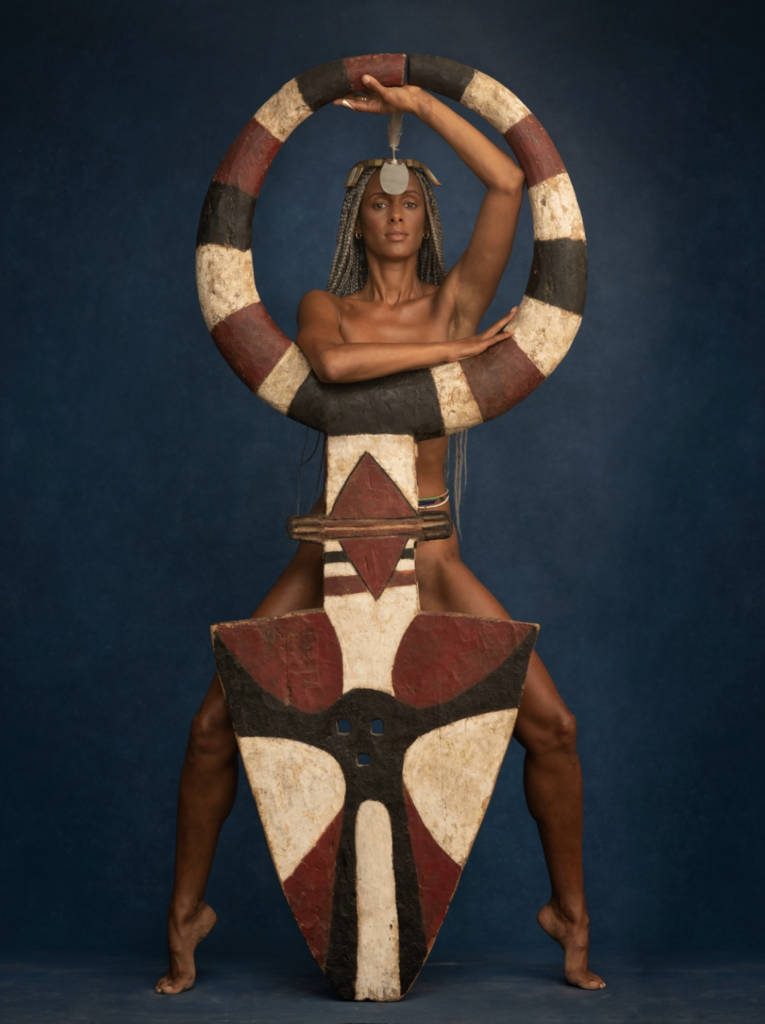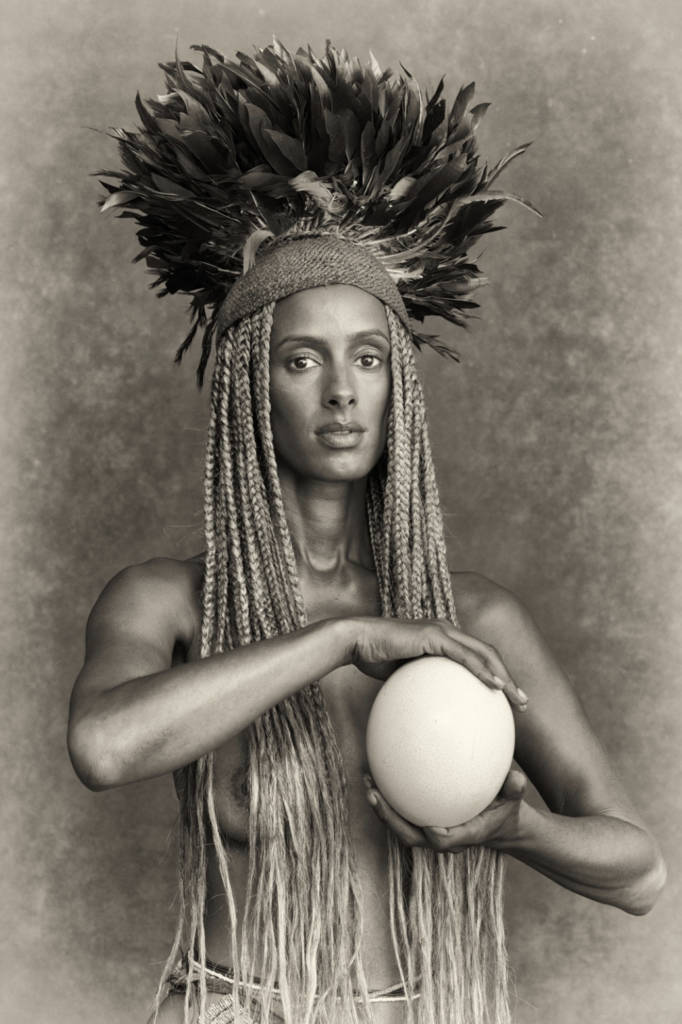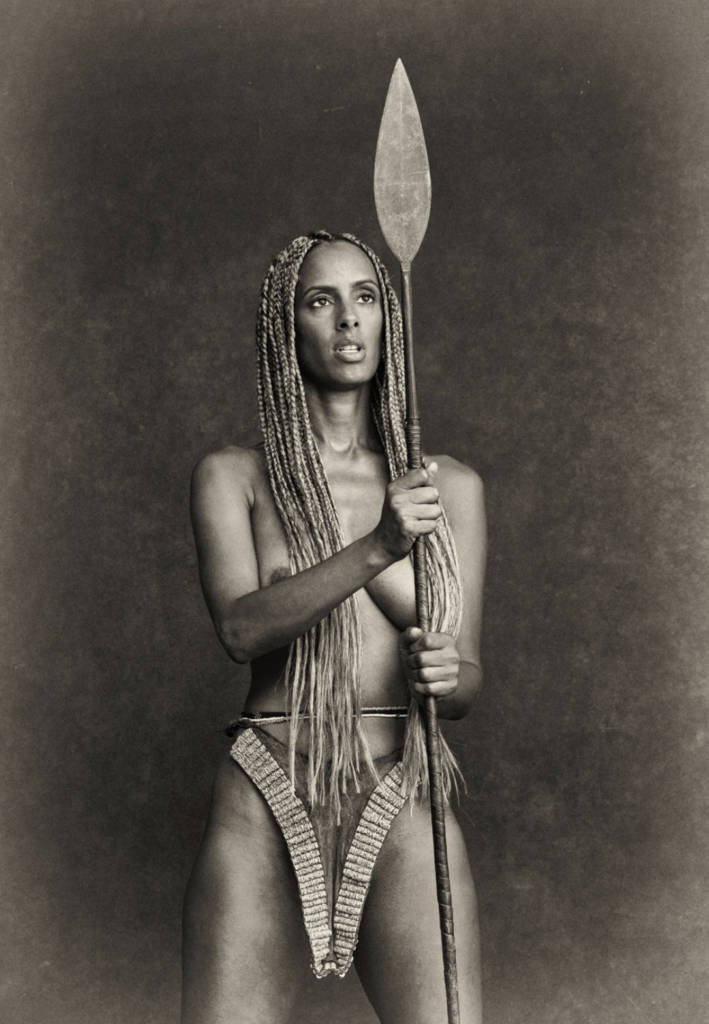 AKAA, the art fair for African and diasporic artists, returns to Paris – FRANCE 24
AKA (Also Known as Africa), the most beautiful of all contemporary African art fairs, is back in Paris.
This meeting place for all lovers of African art is also an opportunity to make discoveries and meet new people. Delphine Diallo, a Franco-Senegalese visual artist and photographer based in Brooklyn, Special Interview by France 24.
Fisheye Gallery representss Delphine Diallo in participating in AKAA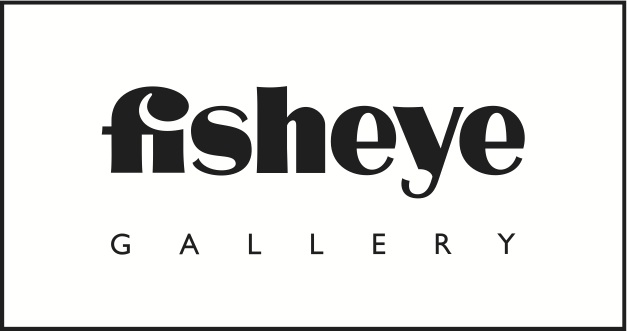 For the second time, Fisheye Gallery is participating in AKAA – the only contemporary art fair in France dedicated to the artistic creation of Africa and its diasporas – alongside Delphine Diallo. From October 19th to 22nd, 2023, Motherboard will be presented, an unprecedented series of collages where a fourth spiritual dimension unfolds, symbolized by the motherboard mentioned in the title. Drawing on the image of this essential connector for the proper functioning of any technological object, the artist also references the figure of the mother, a universal link omnipresent in her work.
Through this approach, Delphine Diallo extends her decolon of the gaze by highlighting the importance of « having traces of the past to understand how the vision was constructed by the colonizers. » Over the past decade, the artist has continuously enriched her technique to make collage a form of mediation and a revealing tool. To achieve this, she intertwines her own photographs with sacred objects, personal archives, or images taken from socio-anthropological magazines, often tinged with racism, dating back to the last century. The resulting composition resembles syncretism, where religions, cultures, and communities from different eras overlap until they reach symbiosis.
The exhibition will also feature a 2-meter-long work from the Divine Sun series. Created in Lompoul, in the heart of the Senegalese desert, in collaboration with artist Lafalaise Dion, these images unfold like a visual narrative that explores both the beauty of the world and its complexity.
Conceived as a temple, the space dedicated to this solo show is envisaged as a spiritual and intimate place. The artist will be present to create her collages in a performative way, letting the public into her creative vision.
Fisheye Gallery Contact
Website: https://fisheyegallery.fr
Fisheye Gallery. Paris 2, rue de l'Hôpital Saint-Louis 75010 Paris. Arles 19, rue Jouvène 13200 Arles. contact@fisheyegallery.fr +33(0)1 40 37 24 19.
AKAA (Also Known As Africa)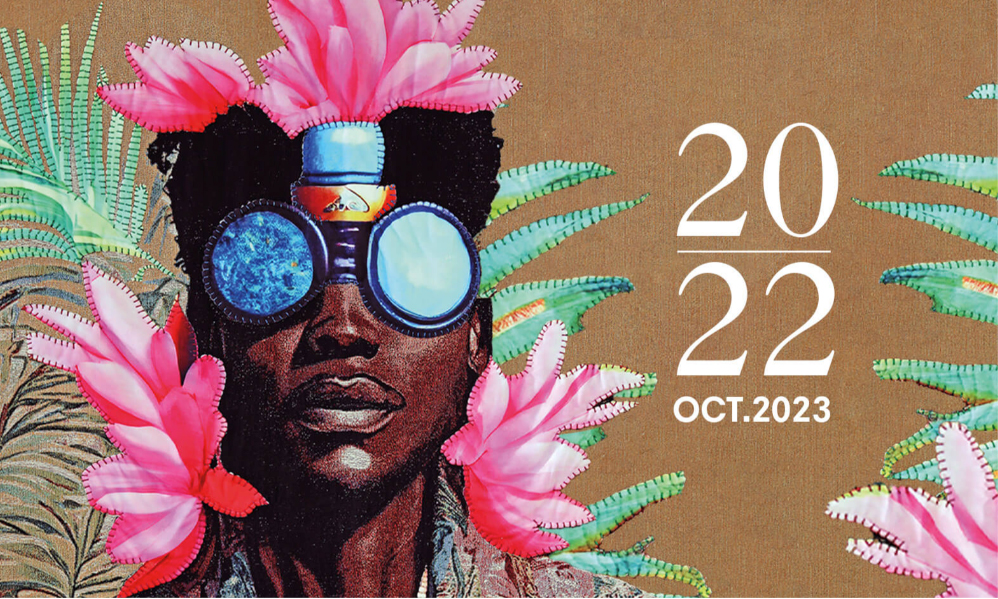 Website : https://akaafair.com/