AFRICA FASHION RECEPTION 2017
Africa Fashion Reception Addis Ababa from the 28th – 30th September 2017 and 4th November 2017 in Paris
The Africa Fashion Reception (AFR) is a Fashion Pan African initiative. The AFR hosts 2 events annually— the African and the global editions which are usually hosted by the African Union in Addis Ababa and UNESCO in Paris in its headquarters in November.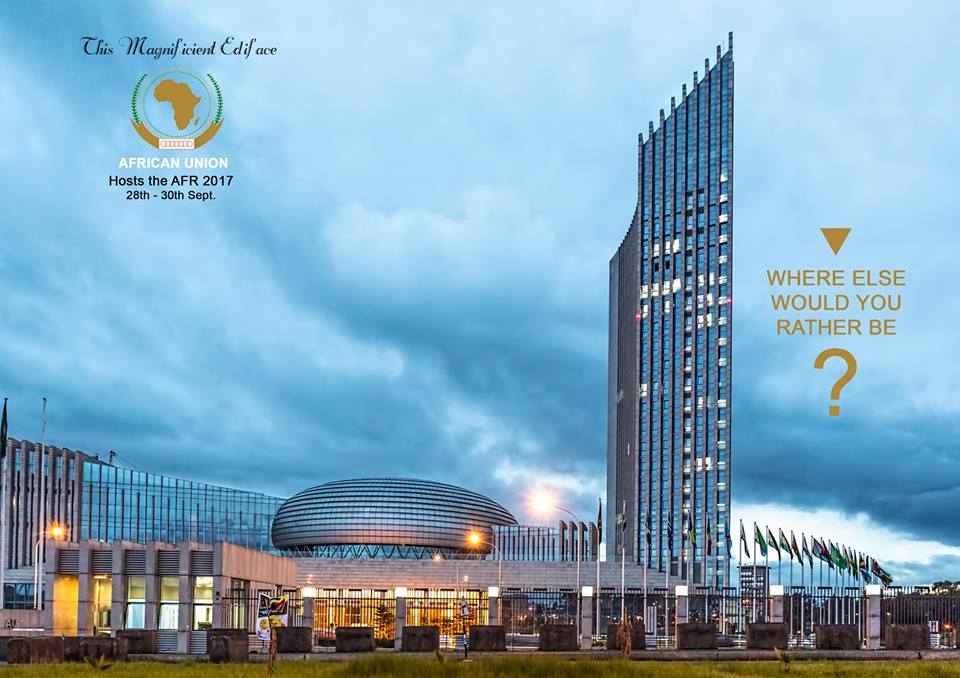 ABOUT AFRICA FASHION RECEPTION
Each year, fashion designers, dignitaries, ambassadors and the world's top media houses gather for this fashion event and 2017 won't be an exception. Over 30 African countries will showcase their phenomenal designs this year in a celebration of cultural diversity expressed through the artistic fashion discipline with the proud theme 'Africa is the New Inspiration of Global Fashion'.
The Africa Fashion Reception is not just another fashion event. It is a movement that is calling on Africans from across the continent and the diaspora to patronize and wear clothes, fashion accessories, beauty and lifestyle products locally produced in Africa. If we are able to successfully accomplish this, Africa will systematically be liberated from poverty.
Africa Fashion Reception The Largest African Fashion Market
Overview Prints, Patterns, Colors, Embellishments are some of the things that come to bear when African styles and designs are discussed. Although African designs inspired by colorful prints, vivacious styles embedded with embellishments have become the new inspiration for fashion enthusiasts all over the world, there is still dire need to put them on the center spread of world fashion platforms to boost the continent's development potentials.
To this end, the World Fashion Organization in collaboration with Legendary Gold Ltd created the African Fashion Reception in 2013 to give a renewed perspective and a global platform to showcase their work.
In attendance are global fashion influencers, buyers from top clothing lines, CEOs, model scouts, model agencies, designers, dignitaries, ambassadors and media from over 30 African countries.
The AFR networking
If you are a fashionista or a fashion designer and love catching fun, then go out there and make your fashion statement in the Africa Fashion Reception, AFR, 2017. The AFR networking floors is a good gathering for Fashion Consultants and people in the business of fashion to interact with global fashion influencers, CEOs, and learn a thing or two from the Business Summit.
The AFR AS a platform
Fashion shows just as this one are great platforms to source knowledge, catch up with latest trends, mix with industry giants and discover new talents. So mark these dates for the Africa Fashion Reception Addis Ababa from the 28th – 30th September 2017 and 4th November 2017 in Paris and prepare to attend the grandest Fashion event this year.
The Africa Fashion Reception is being positioned as the largest African Fashion Market. It will be held twice annually, once in Paris and another one in an African country.
THE OBJECTIVES:
The Africa Fashion Reception is aimed at achieving the following objectives using the creative industry of fashion as a vehicle:
• To build bridges by creating free trade and partnerships among fashion practitioners throughout the African continent
• To attract global attention to Africa's very rich and diversified dress culture which can be explored as a catalyst for the social economic growth of the continent's garment/textile industry.
• To expand the potential power of fashion as a tool of fighting poverty in Africa by creating wealth through the empowerment of women and youths in the various fashion vocations through training, capacity building schemes, workshops and setting up of medium/small scale businesses thereby supporting the United Nations Sustainable Development Goals and the African Union Agenda 2063.
• To bring about self-reliance as this initiative will create millions of jobs across the continent for Tailors, Creative Directors, Textile designers, Models, Cutters, Pressers, Fashion Photographers & Writers, Hair Stylists, and Make-up Artists and more…
LEGENDARY GOLD LIMITED
Legendary Gold Limited in collaboration with the African Union Commission and UNESCO are pleased to announce the opening of entries for participation in the Africa Fashion Reception 2017.
Are you an African fashion designer ? Do you want to represent your country in AFR 2017 ? Do you produce garments, shoes, bags, Jewelries, head gears and lifestyle products ? Then you are invited to apply to participate in AFR 2017.
NEW ADDITION TO THE EVENT
This year LEGENDARY GOLD in collaboration with TALKSTUFF is giving emerging African talents the opportunity to showcase their work on a world stage through a transparent online voting system.
The 'Works' of various participants will be uploaded online on www.talkstuff.com, and participants will go through an online voting process strictly determined by the public. The most popular applicants from each category will be sponsored to experience the event live. So if you are a:
1.Fashion blogger
2.Fashion designer
3.Fashion photographer
4.Fashion model
5.Lifestyle and fashion product exhibitor
This could be the perfect meeting floor for the breakthrough you have been looking for.
DATES:
AFRICAN EDITION: ADDIS ABABA 28TH – 30TH SEPTEMBER, 2017
INTERNATIONAL EDITION: PARIS 23RD NOVEMBER, 2017
PARTNERS INCLUDE: DSTV, TALKSTUFF, Ethiopian Airlines, Design Essentials, Institut Francais, Nicolas Feuillatte, Ovation International, Amina Magazine, African Independent Television, Planet TV, Debredamo Hotel (Addis Ababa), De Eminence, Nigerian Ministries of Foreign Affairs, Culture & Tourism, Nigerian Embassies in Ethiopia and France.
The search for THE "AFR GUEST STARS" 2017
The search for THE "AFR GUEST STARS" 2017 is a global initiative created by TALKSTUFF in partnership with LEGENDARY GOLD the organizers of Africa Fashion Reception – AFR. This event will take place in Addis Ababa from the 28th – 30th September, 2017 and in Paris on the 4th November, 2017 sponsored by African Union and UNESCO,   respectively.
WHAT IS THE PURPOSE OF THE SEARCH FOR THE "AFR GUEST STARS" 2017?
The Project has the MANDATE to discover the newest, freshest and unrepresented fashion models and emerging fashion designers in Africa, and to launch their careers to the next level in the Global Fashion Industry.
HOW WOULD IT WORK?
Emerging African fashion aspirants from all over the globe will get the opportunity to apply online for a chance to compete and be declared THE "AFR GUEST STAR" 2017, through a global online voting system where global fashion fans will be able to interact and vote for their favorite candidate.
OFFICIAL RULES, POLICIES AND PROCESSES:
HOW TO ENTER: Visit www.talkstuff.com and register to participate in the search for THE "AFR GUEST STARS" 2017.
ELIGIBILITY: All submitting applicants must be at least 18 years of age. Participants under 18 years will need a written consent from parents/guardians.
WINNERS SELECTION / PRIZES: Three winners for each category will be selected.  Please go to the AFR page on www.talkstuff.com to see prizes for the winners.
TalkStuff in partnership with Legendary Gold has the rights to cancel and/or change the rules and policies of the search for THE "AFR GUEST STARS" 2017 without advance notice and/or consent from participants.