Do you want to know how of a Nigerian bread seller who became a dream life as a model ?
Olajumoke Orisaguna happened by chance near a photo shoot. Thanks to Instagram, she found herself a model carrier.
Olamuke Orisaguna – A Fairy Tale
The incredible fate of a Nigerian bread seller turned into a star
It is a happy combination of circumstances that has made Olajumoke Orisaguna a model to the booming career. The 27-year-old woman was a short time ago a breadwinner in Lagos, Nigeria. By chance, she found herself near a shoot organized in the streets of the city by the British rapper Tinie Tempah.
In this city of more than 17,5  million inhabitants, Olamuke Orisaguna was a traveling bread seller. At the beginning of January, the young woman, with her basket on her head, passed close to a photo shoot of the English rapper of Nigerian origin Tinnie Tempah. The shooting takes place in one of the noisy streets of Lagos by the Nigerian photographer Ty Bello.
On the 7th of February 2016 , when the photos are online, the surfers discover the elegant rapper posing alongside an illustrious unknown: red organza dress, colored leggings and tongues at the feet. The question fuses: is this young woman a professional model or is she there by chance?
Picture on the left, Olamuke Orisagunathe, young woman, with her basket on her head, passed close to a photo shoot, picture take by Ty Bello on 7th of February 2016.
Picture on the right, represent Olamuke Orisagunathe with her little girl at 14th month.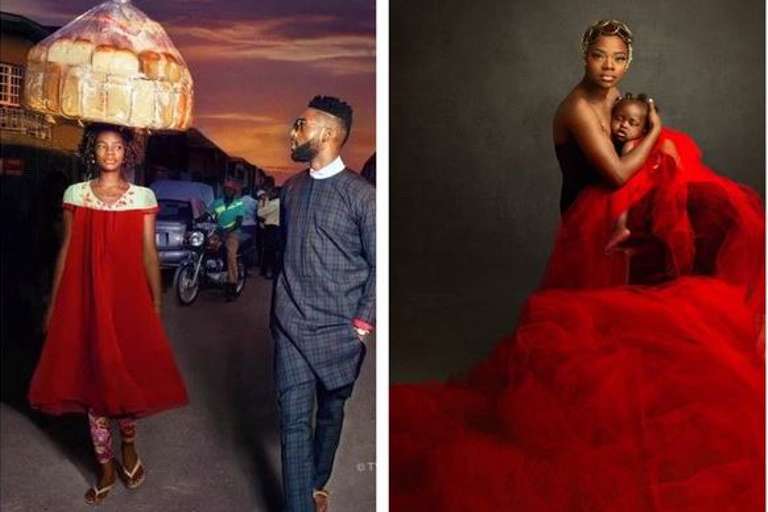 Ty Bello
The photographer Ty Bello answers on Instagram that it is indeed a coincidence. « I think she should be a model and I would be delighted to offer her first portfolio if she is interested, » he adds. The photo of Olajumoke Orisaguna then becomes viral, and everyone starts looking for the bread saleswoman. The photographer will find her. Carried away by the enthusiasm triggered by his cliché, he dispatched his assistants to the scene of the shooting. Olajumoke is located, conducted at the studio of Ty Bello.