Marie MBE by Estelle FANKEM Hairstyle
Marie MBE – DLAS – DNAFRICA- Cover Feb 2018
Wig and Natural hair extensions
Facebook : Estelle Fankem
Instagram @hairbyestelle
+33777992109
Designer : Guenael DESIGN by Emmanuel Guenael CAPET
Mua : DYTOUCH by Dyno AKINDES
Photographer Dan NGU by  STUDIO 24
Estelle Fankem
is from Cameroon. She has young start-up in hairdressing company. Hair is her passion, she have been learning in a salon and have been working 4 years for a hair salons in Paris.  Then she  continued her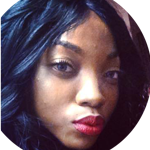 passion as home services during 6 years.
She have 10 years of experiences in the hair activities. She like the contact with the people because that give to her a position in her life. She lost her eye in accident when she was young, her passion helped her psychologically. The fact that people can accept her and trust her despite her disability has shown her that the world we live in is not bad but full of love and for these reasons she promised to show love with good quality products and hair to her customers. And become better every day to satisfy her customers.
Estelle Fankem Products
You will find 3 qualities of products of hair extension and lace wig.
Brazilian weaving grade 7a, weaving asian 9a, Indian weaving coming directly from the source of India and especially of better quality obviously. Everything at reasonable prices and a lifetime of 3 to 10 years depending on the material and maintains.
Especially with the possibility of asking Estelle a special order.