AFRICAN FASHION STYLE MAGAZINE –
VÉRONIQUE NDADENOUBA BÉNÉDICTE
– MAY 2018 COVER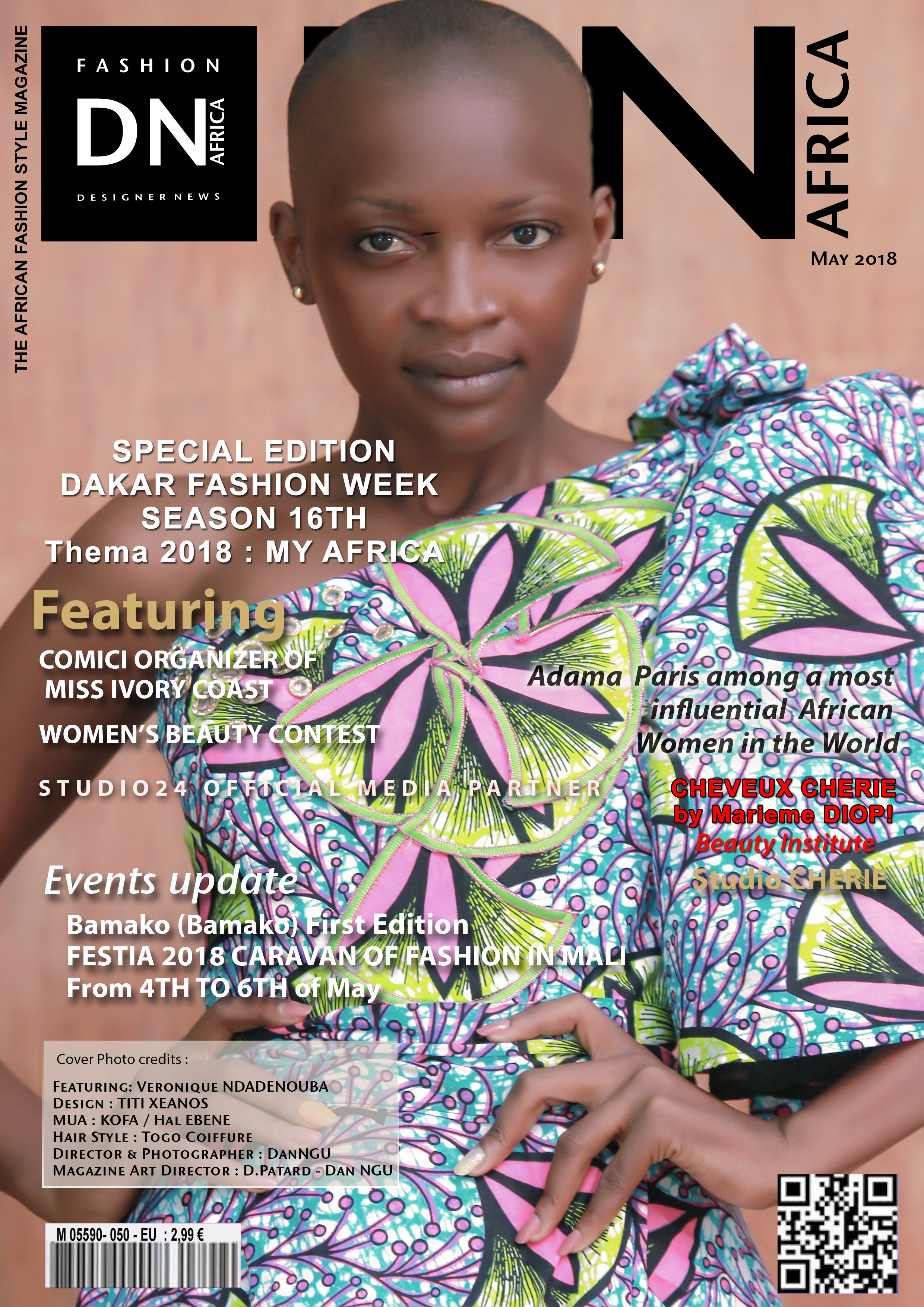 EDITORIAL SHOOT : EXCLUSIVE CONTENTS BY DN AFRICA AND STUDIO 24
Event : KOFA 2018 – 2nd Edition Kobourou Fashion Awards 
Organizer : Hal Ebene
HALIL ABDOULAYE, FOUNDER AND ORGANIZER KOBOUROU FASHION AWARDS (KOFA)
Location : Parakou (Benin)
Photographer : Dan NGU for DN AFRICA AND STUDIO 24 NIGERIA
Created in 1995, the COMICI is organized throughout the national territory by co-opting regional presidents whose mission is to set up regional committees under the supervision of the COMICI for a term of one  year renewable at the time of the AG .. An Annual General Meeting is held after each edition. So begin the elections of MISS CI in 1996, by preselections across the country.
BAMAKO (MALI) FROM 4TH TO 6TH OF MAY
Festival of artistic and cultural mixing around fashion, crafts, peace and social cohesion.
FIRST LADY OF MALI
Under the patronage of Mrs. KEITA Aminata MAIGA 1st Lady of Mali and President of the NGO AGIR.
WHO'S ADAMA "PARIS" NDIAYE ?
Adama "Paris" Ndiaye, 40 years old. A Senegalese fashion designer, daughter of a diplomat who studied economics at Paris-Dauphine, she has been organizing Black Fashion Weeks since 2002 in Dakar, Paris, Bahia, Montreal and Prague.
DN- AFRICA MAY ISSUE COVER 2018
DN AFRICA Editorialist from Parakou (Benin)
Event : KOFA 2nd Edition 2018 – KOROUBOU FASHION AWARDS
Organizer : Hal Ebene
Model : VÉRONIQUE NDADENOUBA BÉNÉDICTE
Artistic Director :
Designer : Titi XENAOS
Assistant Production : Ibrahim KAMISSOKO
Make Up Arrist :Photographer : Dan NGUMagazine Art Director : Dan NGU