NF DESIGN 3rd Collection – « Bour Ak Linguere, » meaning « The King and the Queen »
Date: June 12th 2023
Location: Dakar, Senegal – West Africa
NF DESIGN – 3rd Collection
In collaboration with the photographer Pierre de Pérouges, NF DESIGN had a captivating photo shoot for the third collection of the Nogaye Fall brand, titled « Bour Ak Linguere, » meaning « The King and the Queen. »
This collection draws inspiration from the clothing of our grandparents, showcasing a lineage of nobility.
One of the highlights is the incorporation of a hood that transforms into a scarf, reminiscent of the traditional « bayelat.
NF DESIGN present « Robe-manteaux » (Coat dress)  adorned with a versatile hood that can be converted into a scarf.
The collection features a range of long, short, and 3/4-length designs for both men and women, blurring the lines of gender with its unisex appeal.
With its range of styles, the « Gueer ak Linguer » line bestows regal elegance upon everyone, reflecting a sense of nobility.
NF DESIGN by Nogaye Fall – 3rd Collection named « Bour Ak Linguere, » meaning « The King and the Queen »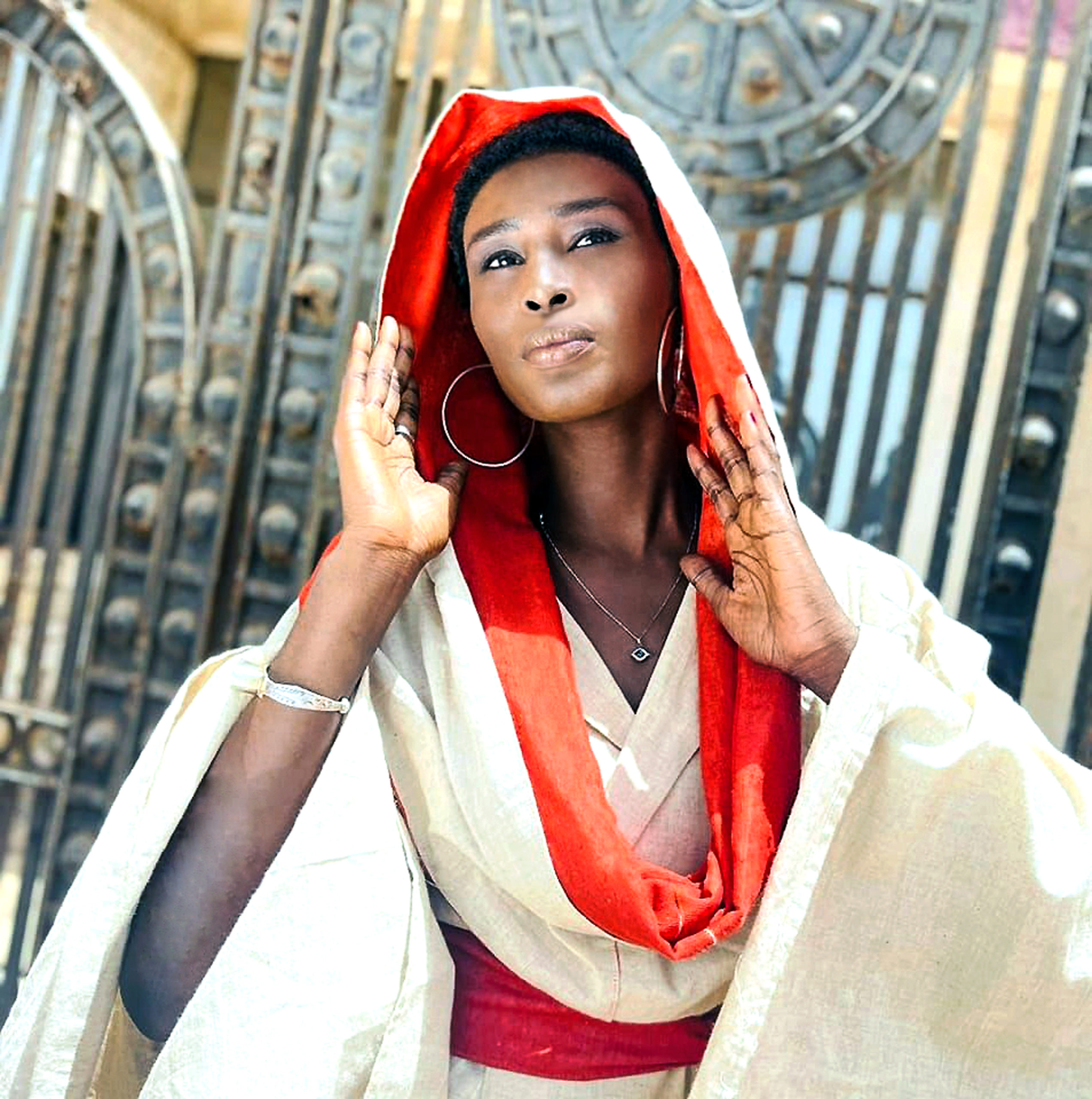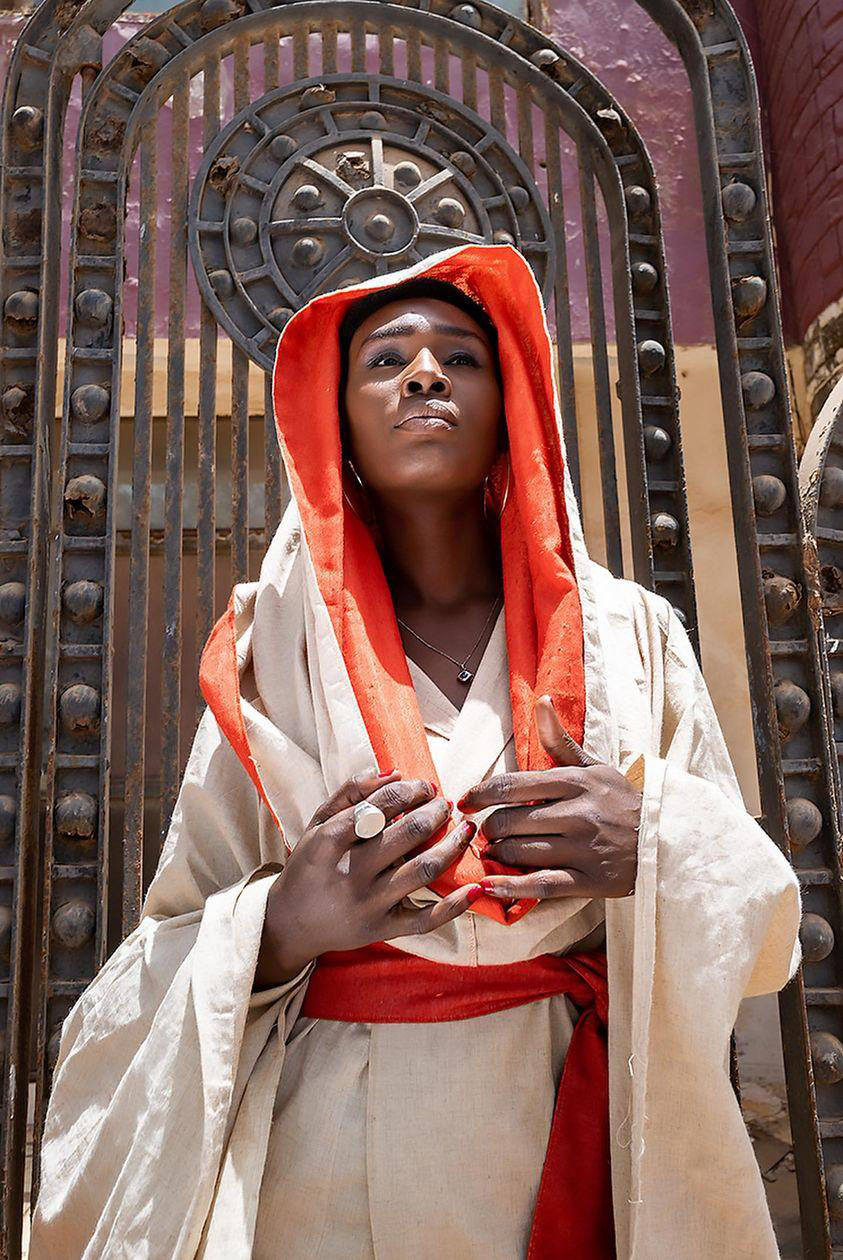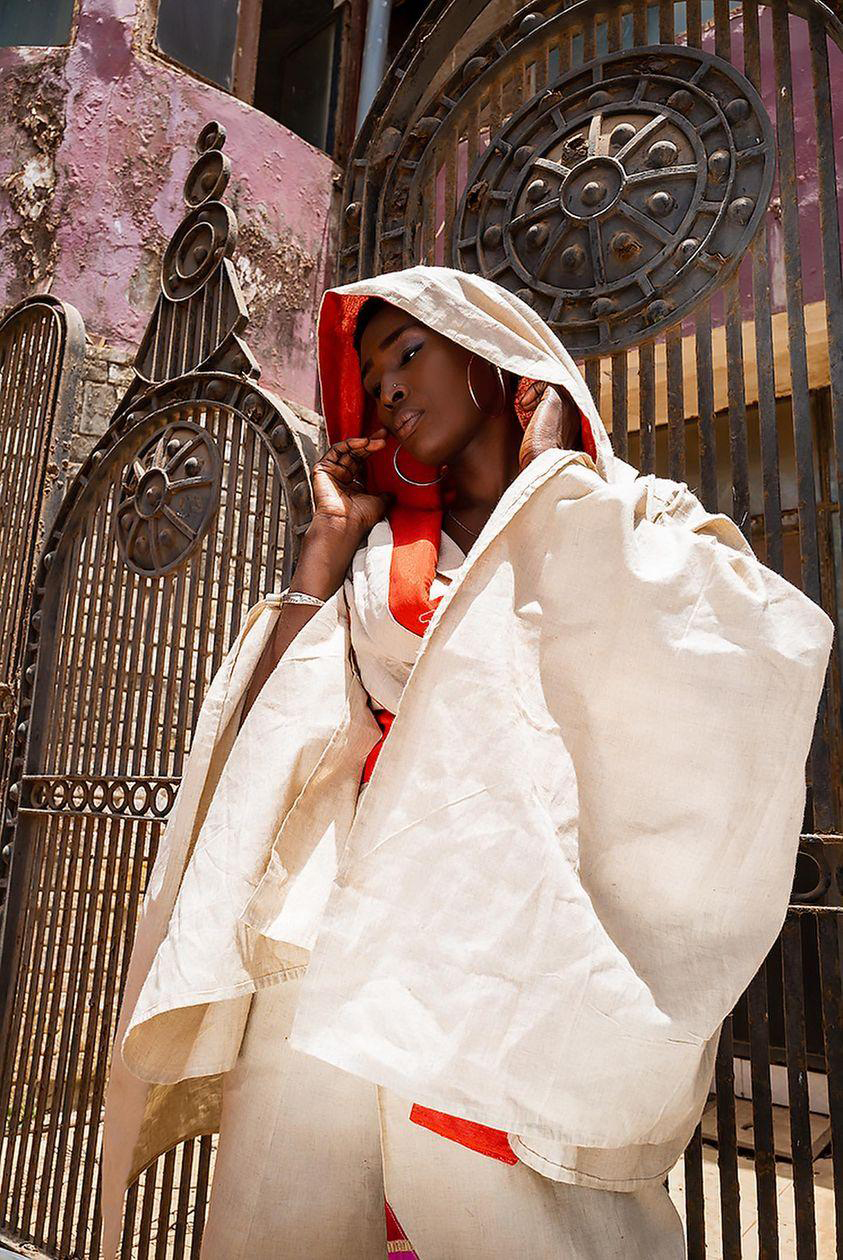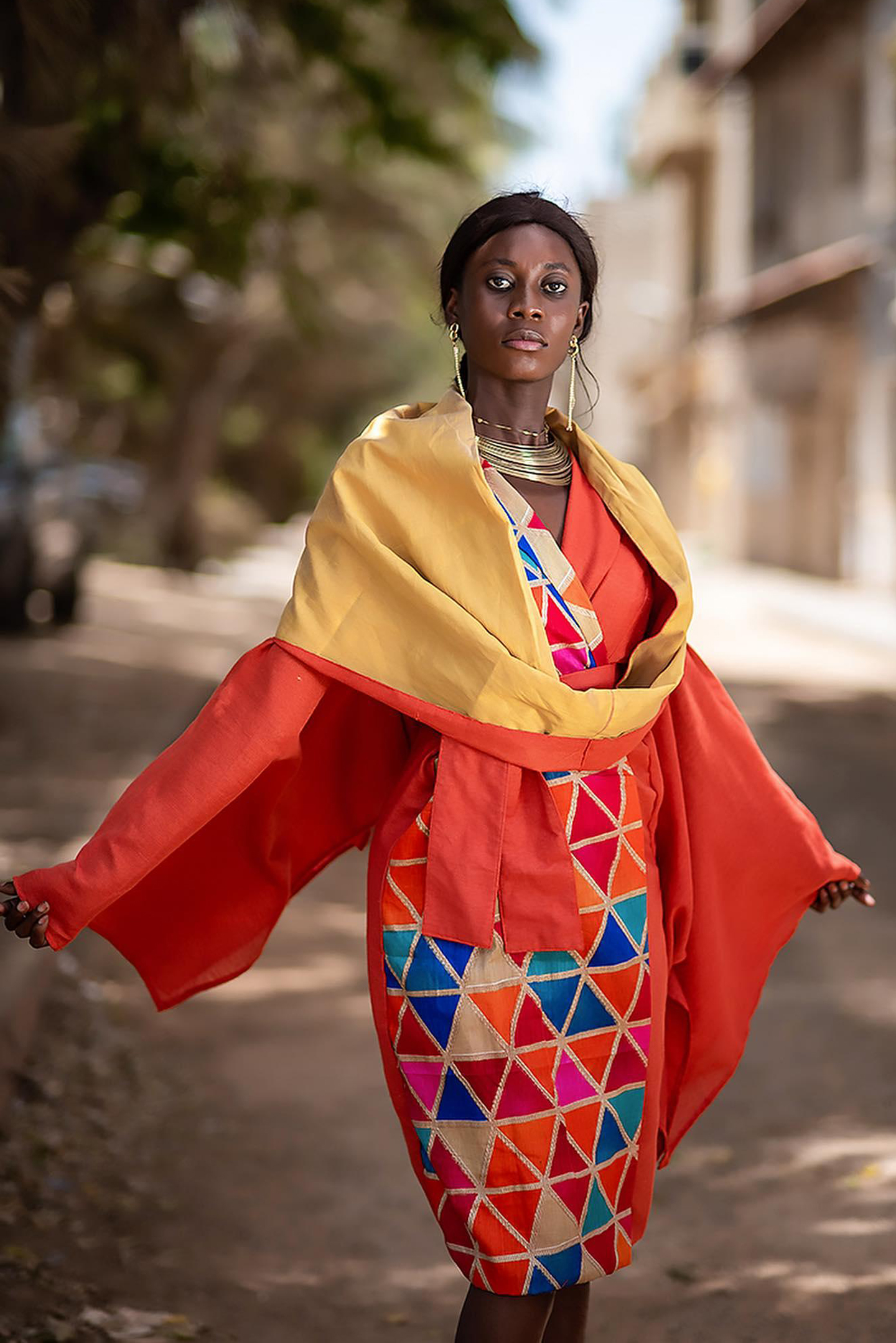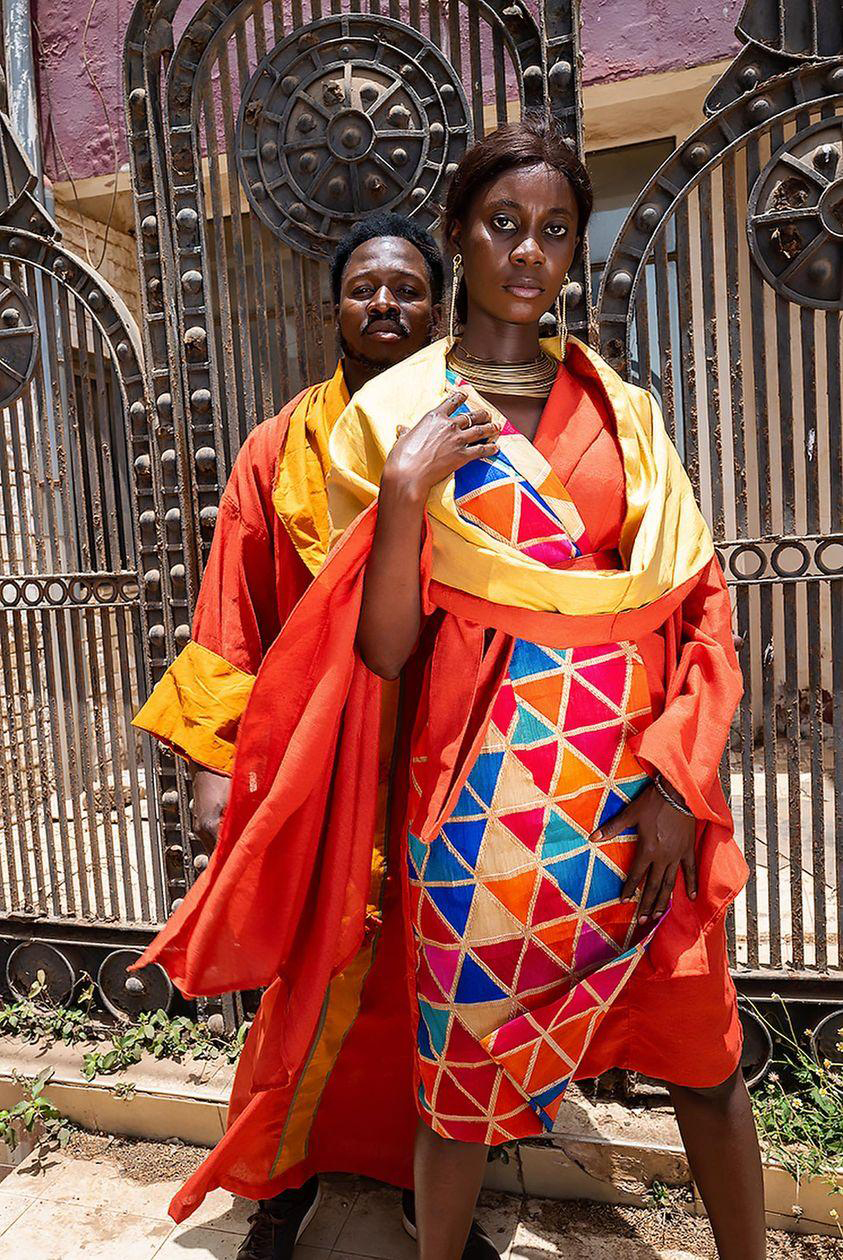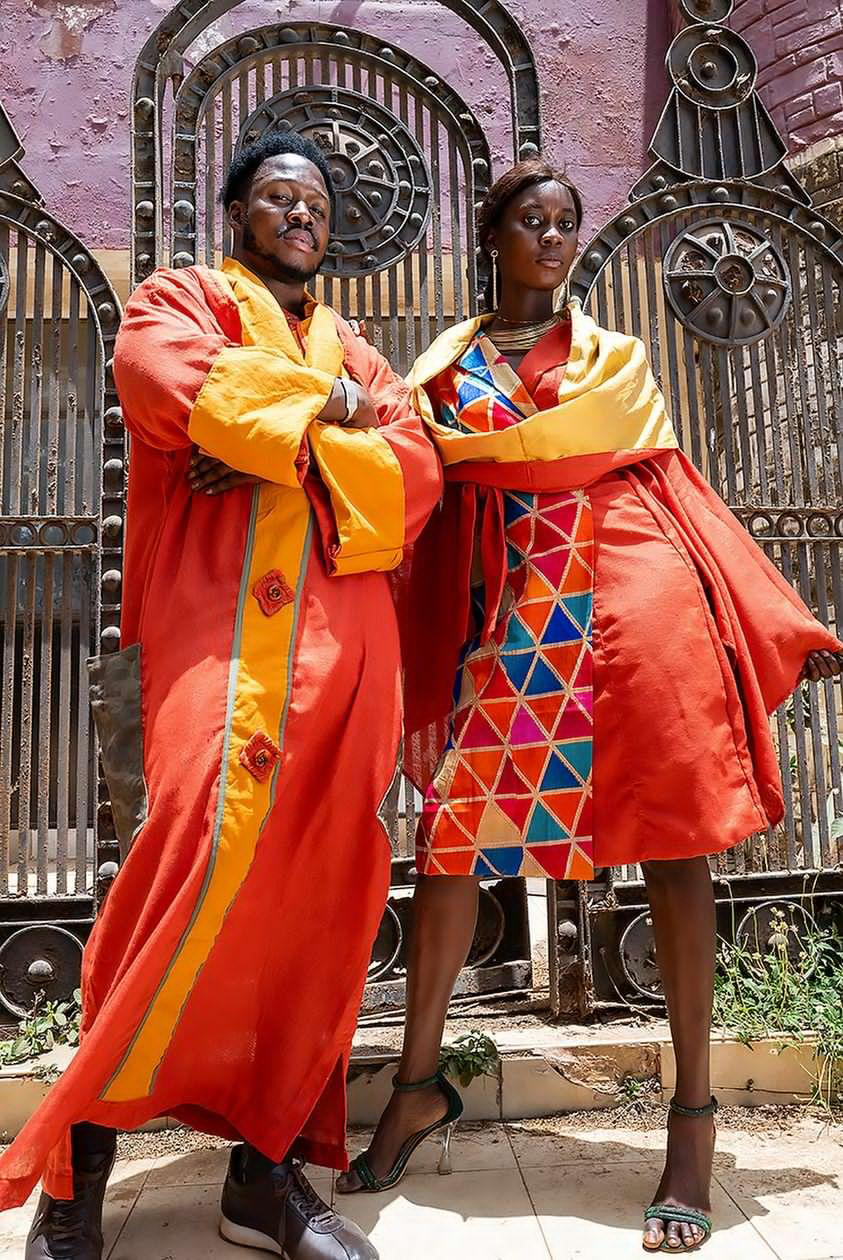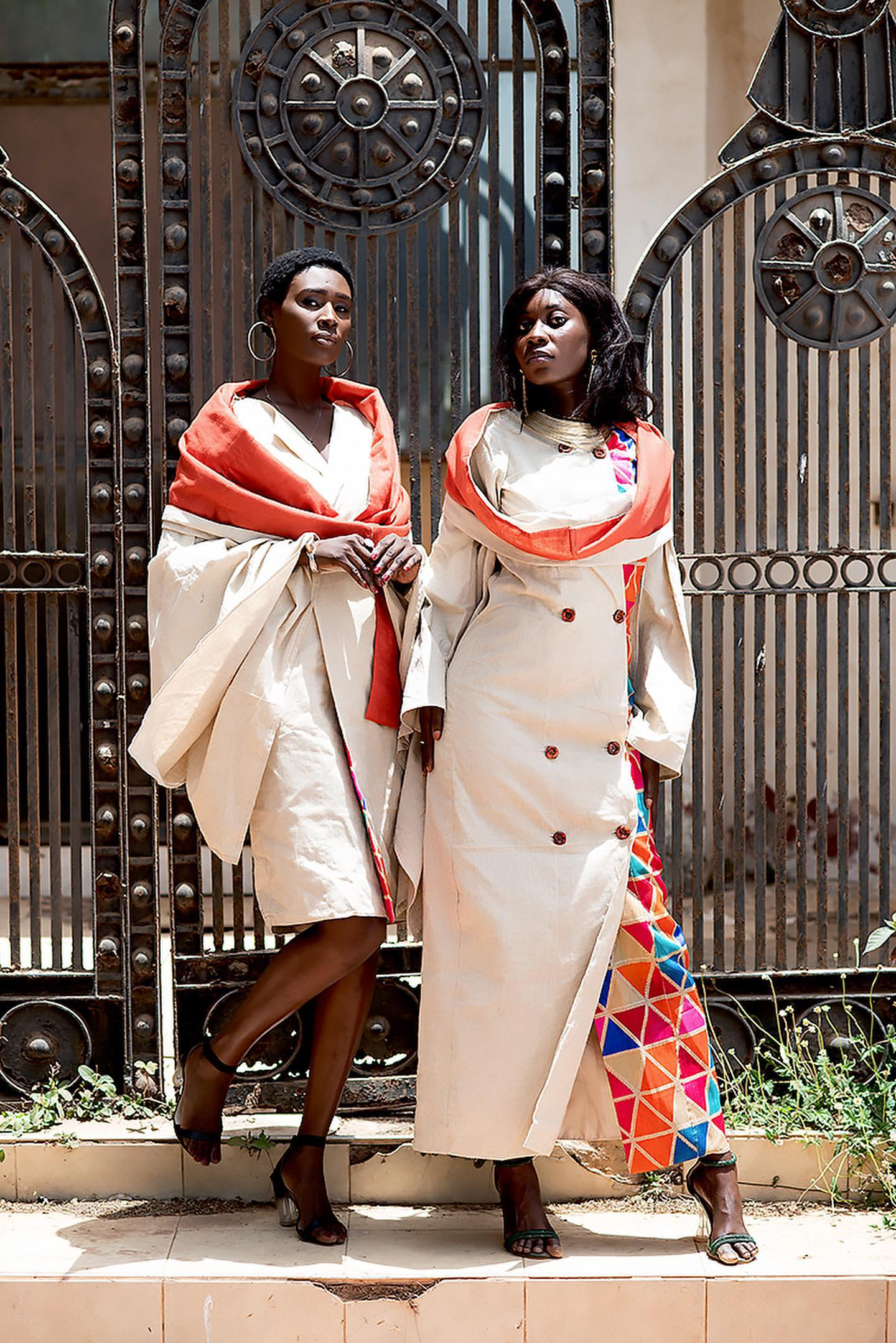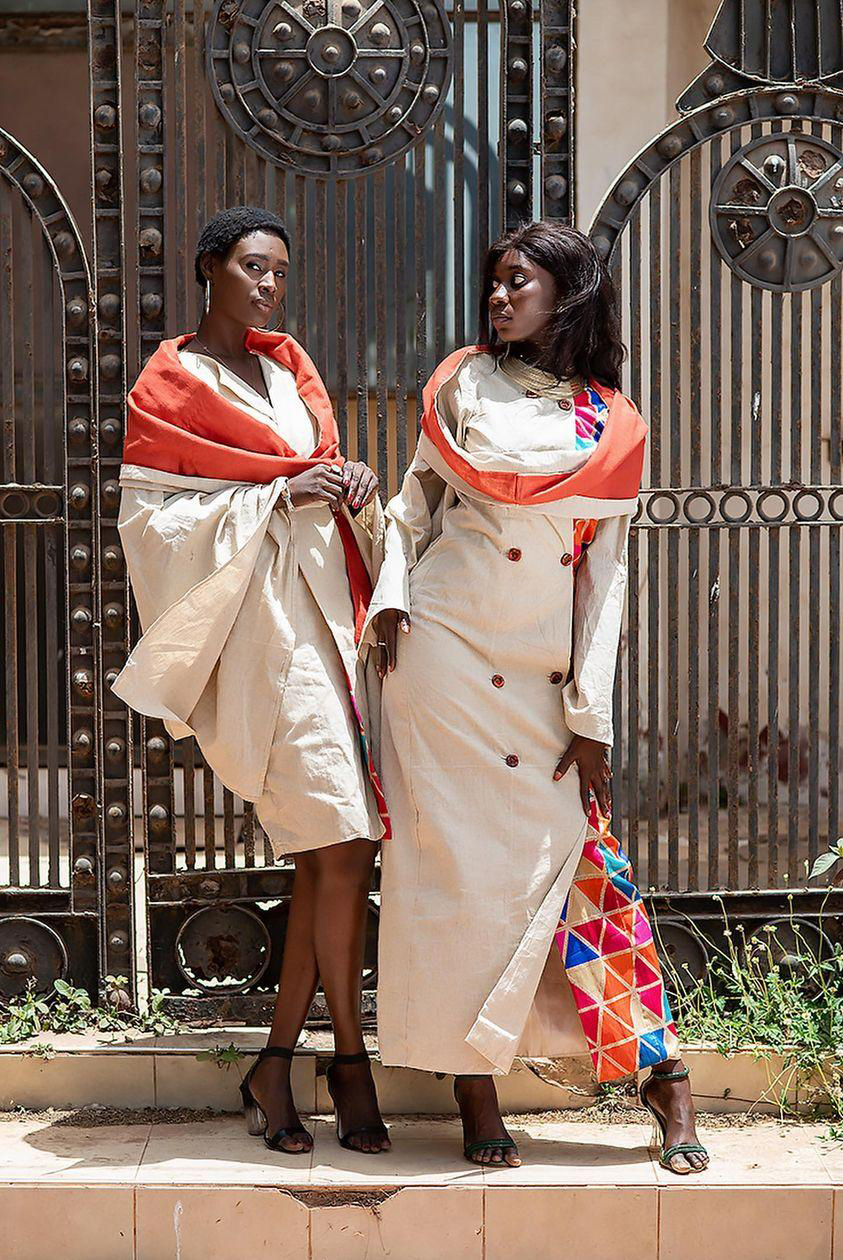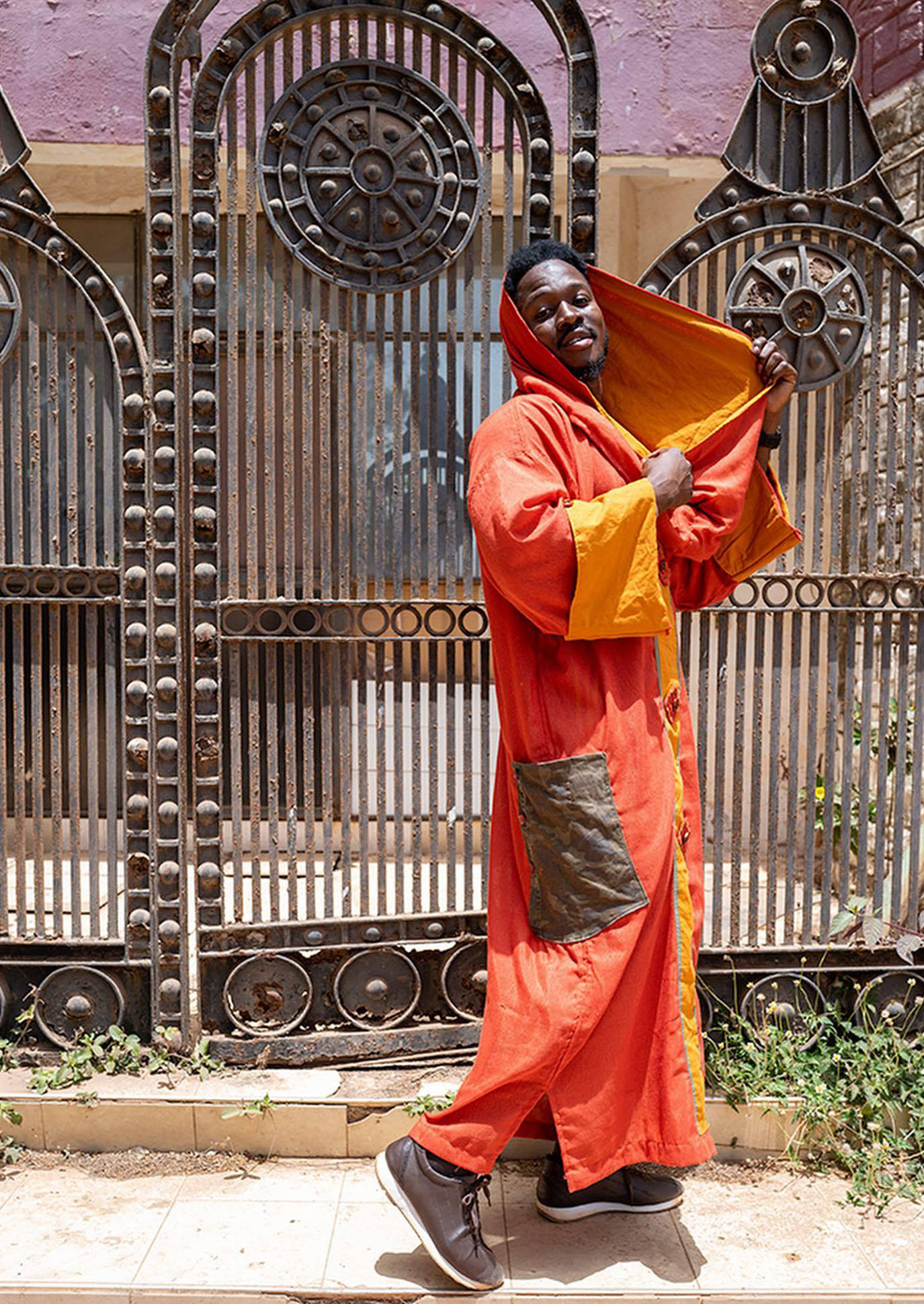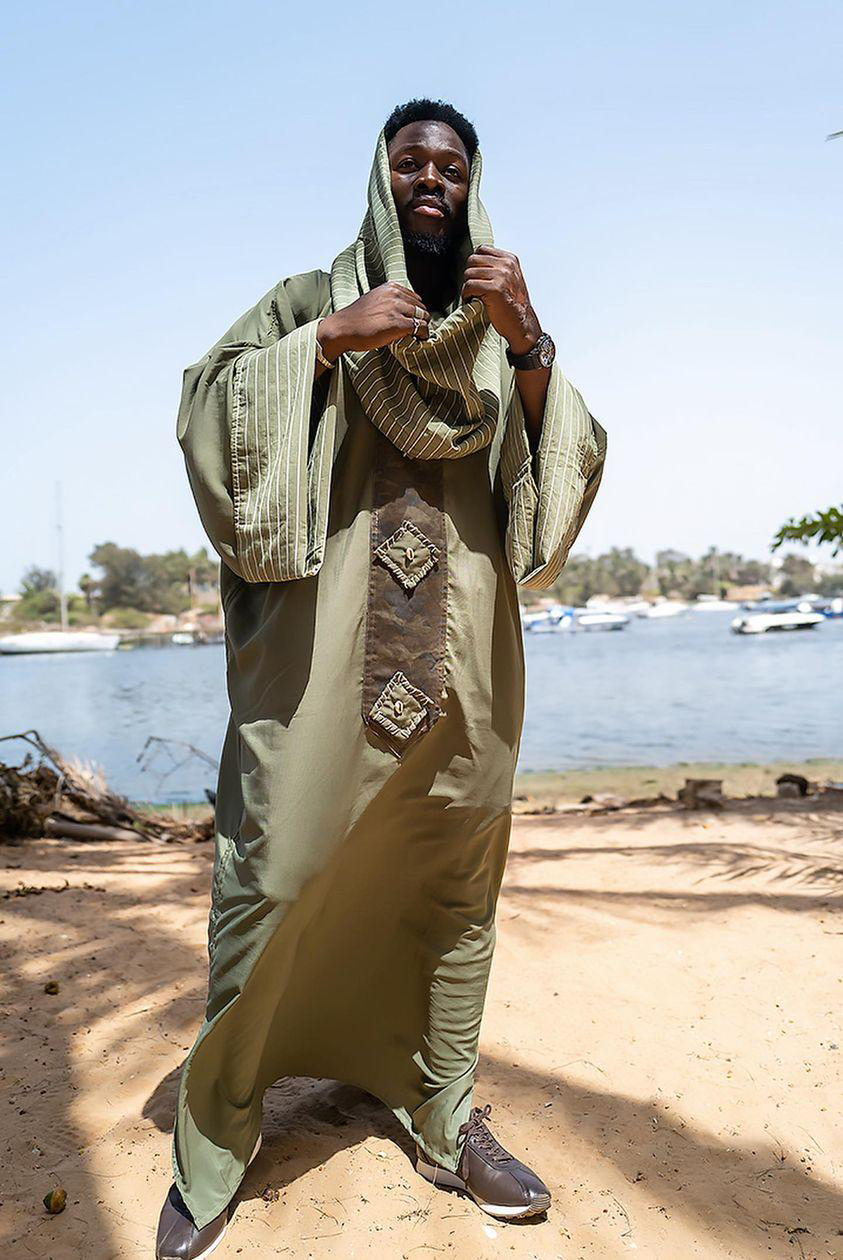 NF DESIGN by Nogaye FALL
The chilhood
Let us take you back to a cherished childhood memory. At the age of  7 or 8 years old when a childhood friend and Nogaye decided to play dress-up in our mothers' clothes.
Little did we know, our mischievous adventure caught the attention of the older brother next door, who playfully chased us away, warning us with a mischievous grin. It was a moment filled with laughter and innocence, and it remains etched in my memory to this day.
As fate would have it, her little sister and Nogaye ended up with matching outfits made from the same fabric.
Her uncle, a skilled tailor and her mother's brother, transformed the fabric into clothes for the childrens.
Nogaye vividly recall explaining every detail of the design she desired, leaving her uncle a bit bewildered.
Despite his best efforts, the final result was not exactly what she had envisioned. However, it turned out to be a unique and beautiful creation that caught the attention and admiration of her school friends.
This amusing anecdote reflects the spirit of Nogaye Fina Fall, the creative mind behind the brand Nogaye Fall #NF.
After years of selling her signature Almadokh clothes and customized leather sandals, she ventured into designing her own collections.
The Year 2019
In 2019, Nogaye Fina unveiled her first clothing collection, aptly named « Dokh-Dadié, » which translates to « everything there is » in Wolof. This streetwear-inspired collection drew inspiration from stage outfits, showcasing Nogaye's distinctive style.
The journey continued with the « Ségg » collection in 2021, featuring intricately hand-beaded and accessorized outfits made from a delightful tiger-print fabric. This collection embodied the fierce and confident spirit of a feline mother.
« Abat-jour » (Lampshade) collection
Then came the eagerly anticipated « Abat-jour » (Lampshade) collection, showcased at Festimod Saint Louis Sénégal. This collection brought together fashion and art in a captivating love story. Inspired by the soft illumination that graces the bedroom, « Abat-jour » sought to unveil the secrets hidden beneath the garments, modestly revealing and illuminating without excess. The collection boasted 10 unique outfits, artistically crafted using a mix of recycled plastic wrapped in textile. Through this collection, Nogaye Fall also expressed her commitment to environmental sustainability and the fight to save our precious planet.
Now, with her latest collection, « Bour Ak Linguere, » meaning « King and Queen, » Nogaye Fall pays homage to the nobility and elegance of our grandparents' attire.
Drawing inspiration from traditional garments like the bayelat, Nogaye Fall adds her unique touch with a hood that gracefully transforms into a scarf.
The collection showcases a range of « Robe-manteau » (Dress Coat)
The collection showcases a range of « Robe-manteau » (Dress Coat) with versatile hoods that can be worn as scarves.
With long, short, and 3/4-length models designed for both men and women, and even unisex options.
The « Bour Ak Linguere » collection epitomizes regal style and inclusivity.
The « Gueer ak Linguer » line, a part of Nogaye Fall's collection, embraces the spirit of nobility and offers a diverse range of clothing options for everyone. It is a line that is yours to explore and embody.
NF  DESIGN 3RD Collection BOUR AK LINGUERE
CONTACT: NF DESIGN

Email: nogayefinachou@gmail.com

Adress : Dakar Sénégal Yoff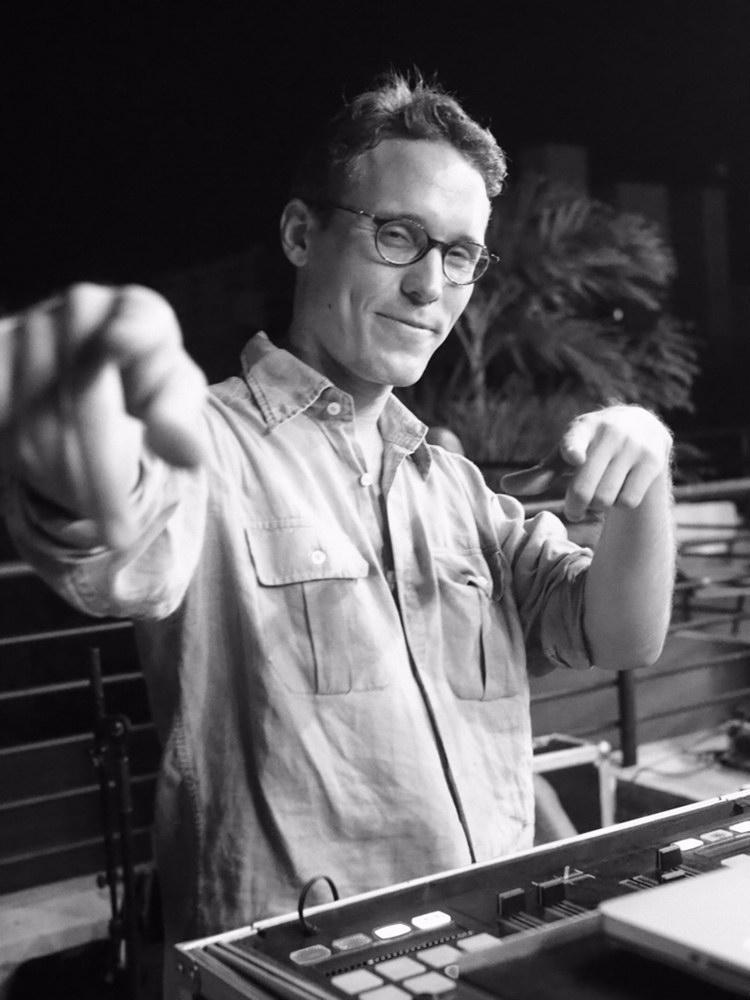 Instagram: https://www.instagram.com/pierredeperouges/
READ MORE:
 DN-AFRICA- COVER – NUMBER 250 – JUNE – 12TH – 2023 – NOGAYE – FALL – DESIGNER & INTERNATIONAL MODEL – NF DESIGN
MEDIA PARTNERS
INDIRÂH EVENTS & COMMUNICATION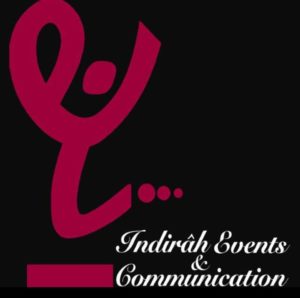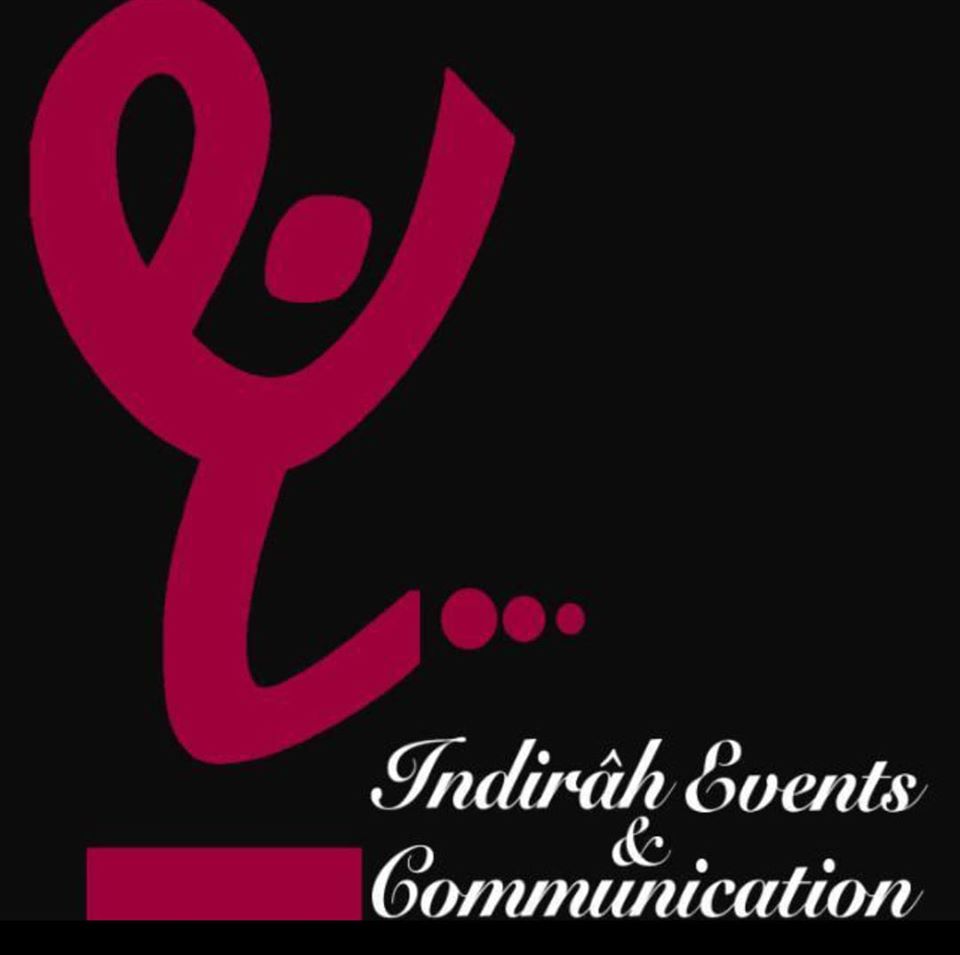 BY INDIRA YANNI DOMINGO
STUDIO 24 – 50 BRANCHES NATIONWIDE & 30 HEADQUARTERS
With over 50 branches nationwide. In this video, I will opportune to visit studio 30 headquarters in Lagos Nigeria. I toured the building and got insights on their business model.
Studio24 Nigeria Contact
 47 Allen Avenue, Ikeja Lagos, Nigeria
 hello@studio24nigeria.org


ACHAT D'OR – BIJOUTERIE RIAN – BUYING GOLD – RIAN JEWELRY
THE BEST PLACE TO SELL YOUR GOLD AT THE BEST PRICE IN PARIS, ENGLISH CUSTOMERS ARE WELCOME.
ACHAT D'OR – BIJOUTERIE RIAN – BUYING GOLD – RIAN JEWELRY
Location : Rian Jewelry Purchase Gold Paris
5 Rue de Chabrol – 75010 Paris France
Mobile: +33 7 81 71 00 19
Call:       +33 9 80 90 60 69
Métro : Gare du Nord – Line 2 – Line 4 – Main Line Train – RER B to Charles de Gaulle Airpot , RER D et RER E, TER Transilien Line H et line K and also the Bus 38, 39, 42, 43, 46, 48, 65, 302 et 350.
CONTACT :
Facebook: https://www.facebook.com/rian.mytho
Instagram: @achat_or_diamond
MEDIA PARTNER:
Editorial: DNA – International
Photographer: Dan NGUYEN
Media : DN-A INTERNATIONAL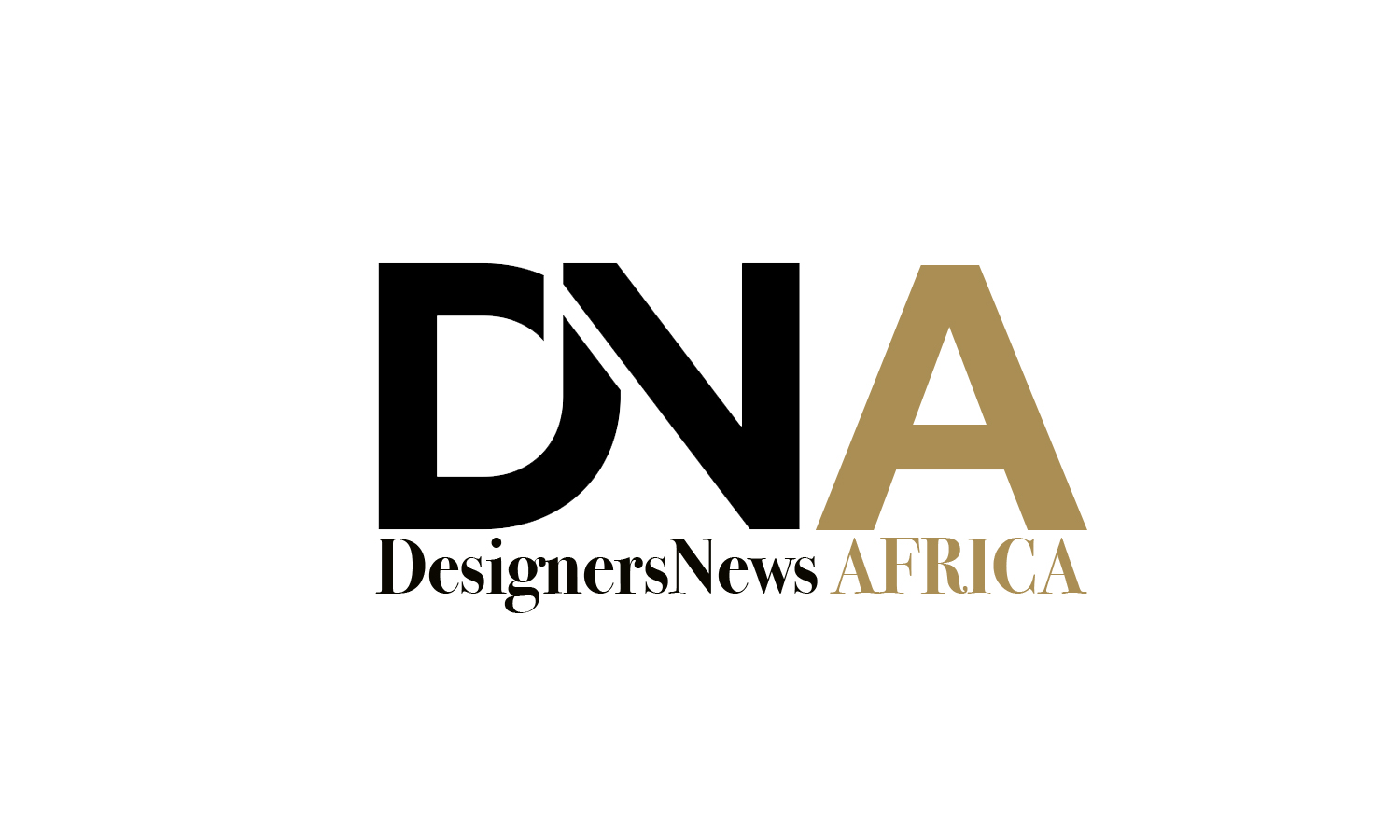 LINKS TO OUR ONLINE MAGAZINES :
VENUE: