FRANK GNAMIEN, young prodigy designer from Ivory Coast.
When one is born with qualities to become the best is only a question of time. But it is also read among our great thinkers that the value does'nt wait for number of years.

These two maxims could be suitable to the 26-year-old Ivorian fashion designer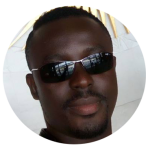 Franck Gnamien, already doing part of the new emulators of the Ivorian Couture.
Self-taught, he acquires in a very short time all the codes of high-level fashion design as well as fashion design t.  His absolute dream, Become one of the undeniable postcard speaking of great fashion designer of his generation.
Mode Africaine by Franck GNAMIEN